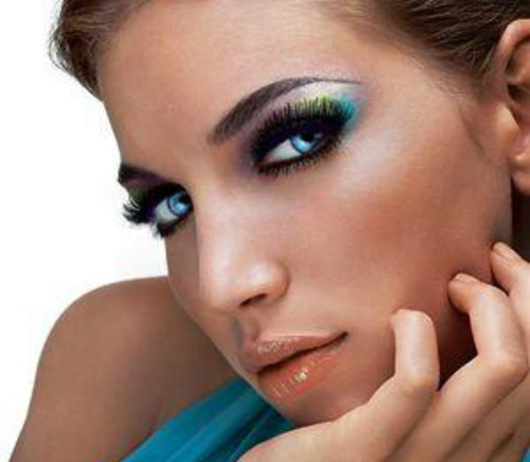 Correctly executed eye makeup gives the image a completeness, and look – openness and attraction. However, many owners of beautiful blue eyes, believe that it is not necessary to emphasize them, because they already look pretty impressive. And yet, knowing how to emphasize the blue eyes, you can make your image even more sexy, giving the look a fascination.
Blue eyes are incredibly beautiful, but with improper makeup they can look dull and inconspicuous, and their color will look more like pale gray. The same experience can happen with the wrong color scheme of clothes. Of course, you can quickly solve these problems by purchasing colored lenses that enhance the saturation of the blue eyes, however, not everyone will like this method, so many of the fair sex are wondering how to emphasize the blue eye makeup.
To give expressiveness to blue eyes with the help of decorative cosmetics, you need to choose the right shade palette. A classic option for blue eyes is the use of black eyeliner or pencil. Black perfectly shades the beautiful color of the eyes, making it more saturated. Blue-eyed women of the fair sex are perfectly suited to the shades of blue, violet and blue scales, but gray is better to avoid in make-up, since its use deprives the blue eyes of their inherent expressiveness. Properly executed makeup for blue eyes involves careful use of bright and flashy colors, especially during the day. In the evening, you can afford a more intense tone and clear lines in makeup.
Openness of the eyes will help to give golden shadows or shades of yellow color that will contrast with the shade of the eyes, making it more vivid.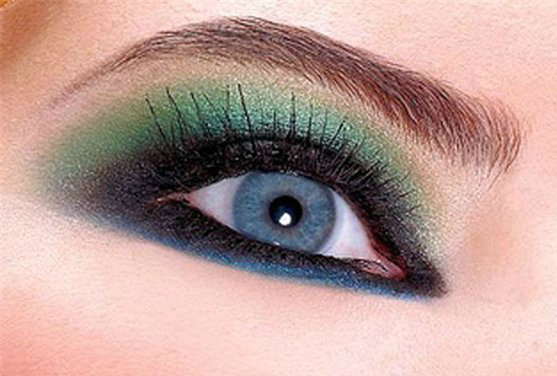 Effectively emphasize the color of blue eyes can be and with the help of properly selected clothing. Things of turquoise, blue, violet shades, moreover, when creating a wardrobe you can use both warm and cold tones. It is beneficial to emphasize the beauty of blue eyes clothes in yellow tones, but a golden shade should be used with caution, it is best if it will be present exclusively in accessories. Also, blue-eyed girls stylists advise not to neglect the clothes of red and pink flowers and, of course, do not forget about the classical colors – white and black, which perfectly match the eyes of the heavenly shade.