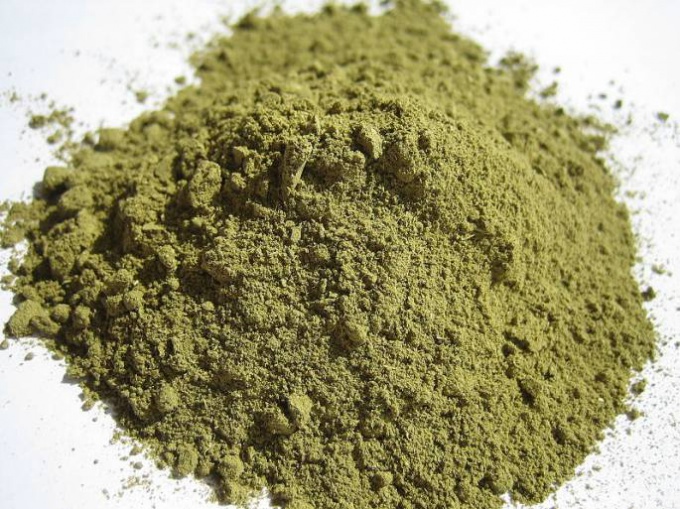 At all times, women have tried to decorate themselves in various ways, including changing the color of their hair. In our time of the newest technologies and bad ecology you do not want to expose your hair to stress once again, using the usual hair colors of a disappointing chemical composition. Pamper yourself at the same time and care, and hair coloring will help henna.
Henna is a powder made from dried leaves of the laussonia plant. It has been used for a long time by women of the world for dyeing and treating not only hair but also skin. Many unflatteringly respond about this tool, saying that after using it hair is tangled, become stiff and dull, one of the objects of dissatisfaction with it is the fact that after use the henna powder is rather difficult to wash off. But, armed with some skills, you can, indeed, not only to color, but also significantly improve the condition of your hair.
Перед применением хны желательно запастись терпением, мисочкой с плотно закрывающейся крышкой, большим полотенцем, перчатками и  шапочкой для душа. Высыпав пакетик (или два-три пакетика, в зависимости от длины ваших волос) красящего порошка в мисочку, залейте, помешивая, порошок горячей водой до состояния кашицы. Закройте мисочку крышкой, заверните ее полотенцем и оставьте настояться на 20-30 минут. По  истечении этого времени, добавьте в кашицу столовую ложку оливкового масла (по вашему усмотрению вы можете добавить другое масло, например, миндальное, этот ингридиент мы добавляем  для того, чтобы не иссушить волосы). Тщательно перемешав кашицу, наносим ее на сухие волосы (желательно, чтобы они не были свежевымытыми, лучше использовать хну как раз тогда, когда пришло время их помыть). В конце процедуры получается шевелюра, похожая на прически женщин одного из африканских племен, намазывающих волосы глиной, чтобы в них не заводилась живность. Надеваем на голову шапочку для душа, сверху обматываем ее полотенцем и ждем, в заисимости от результата, которых хотим получить, от  5 минут до одного часа. Можно оставить хну и на более длительное время, если вы хотите более насыщенный медный оттенок волос. Затем мы приступаем к самому сложному этапу – частицы порошка хны необходимо смыть с волос, что представляется порой почти невыполнимой миссией. Справиться с этой задачей поможет обычный кондиционер для волос. Смыв основную массы кашицы с волос, нужно взять немного кондиционера, нанести его на волосы и затем смыть его с волос вместе с оставшимися частицами хны. 
As a result of staining / treatment of henna, the hair becomes more dense, shiny and elastic – a very useful effect for owners of fine hair. A pleasant bonus is a bright rich copper shade of hair.
Attention: henna should be applied with caution after staining with conventional hair dyes, in this case the hair color after staining can turn out unexpected (for example, greenish after dark dyes).