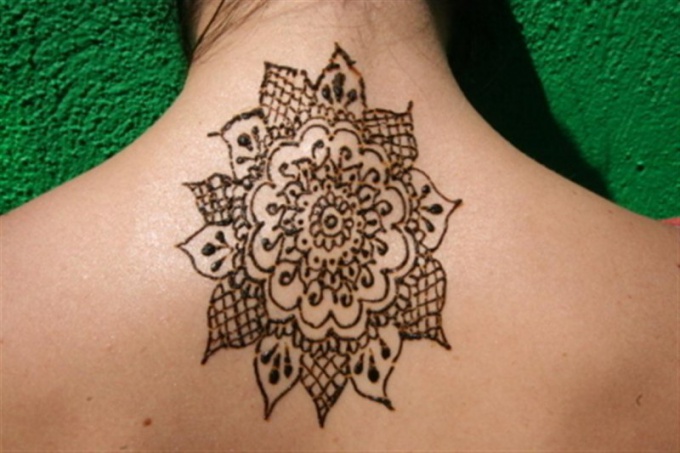 Doing a persistent tattoo is painful, long and expensive. Besides, what if the drawing is boring, or does the office dress code not allow it to exist at all? Option – temporary henna tattoos, their history of origin takes centuries.
Henna is a wonderful natural material. It is dried and well powdered leaves of a bush with a poetic name "Lavonia". Lavsonia grows only in countries with a tropical climate and low rainfall, usually reaching a couple of meters in height, and
at night
makes itself felt sharp smell.
Decorate body girls henna is accepted in the traditions of many peoples, but this is not just a fashion or a whim. Henna is a curative substance with aseptic properties, it was applied to the body, rubbed into the hair, treated with teeth and gums, prevented massive skin diseases. Unable to explain its effect on the human body, our ancestors attributed to it miraculous properties and made part of the religious cult, an indispensable element of some rituals. In modern world tattoo (mehhesti or mehed by Hindus) face and hands henna is mandatory during the wedding ceremony in Algeria, Iraq, Pakistan, Morocco and other countries, this is part of the rites of initiation and Men and women.
Home Painting Body
If you decide to create a picture and paint your own body with ornate words at home (do biotate), try to buy only natural Iranian henna. Usually it is a powder in a bag with instructions or a prescription, as well as recommendations for the care of domestic temporary tattoos.
Only dilute the powder with warm water. At 30 grams of henna you need 2 glass of water. Stir with a long wooden stick, pour into a saucepan and bring to a boil, reduce heat and cook for half an hour. If the proportions are taken correctly, you will get a brown mass similar to liquid sour cream. Strain. Using a stick, drip the henna on a sheet of thick paper. The drop should not spread. Leave the paste on 3-4 for an hour in warmth and without light.
Even in Ancient India the solution of henna has learned to discolor with the help of lemon juice, adding graphite, they sought black and even blue, and the coffee grains made the color of the solution and the pattern chocolate.