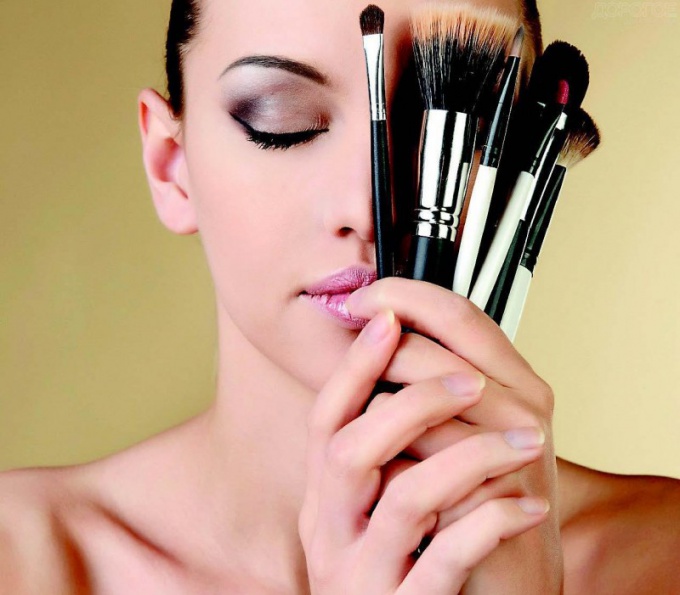 The reduced eyes allow you to create a more expressive, attractive and even sexy look. It's no wonder that girls often worry about how to draw the right padding. To do this, you need to use a cosmetic pencil, liquid liner-liner and shadows. Each way of drawing eyeliner has its advantages and nuances.
Instructions
Draw your eyes with a pencil. Pencil lines should be moderately thick and soft. Check how it is sharpened to correctly draw the eyeliner. To do this, draw a line on the back of the palm and make sure that the wooden part will not scratch the tender eyelid.
Close the eye, pulling the skin of the upper eyelid aside. So it will become more flat, and you will be able to draw the eyeliner more smoothly. Draw a line from the inside of the eye to the very end of the eyelid. For the effect of eye enlargement with a pencil, draw a line from the center. With a soft sponge on the back side, shade the liner. Pull down the lower eyelid and apply the liner along the edge of the mucous membrane. It is important that the hand does not tremble. After that, draw a look at the second eye, making sure that the lines are symmetrical.
After working with a pencil, you can proceed to the liquid line, which leaves more thin and clear lines. To create a soft line, you can apply it to the pencil base, and if you need a more accurate result, do it after. After dipping the brush into the bottle, draw it along the edge to remove excess paint. The brush should be kept at an angle of 45 degrees, drawing a line to the outer corner of the eye from the inside. To apply an even more expressive eyeliner, use a magnifying mirror.
Never apply liquid liner to the lining of the lower eyelid to avoid irritation. Draw the lower eyelid like the upper one, orient yourself along the line of growth of the eyelashes. Before applying a shade or mascara, make sure that the liner is completely dry, and that there are no lumps and stains. Remove any excess napkin or handkerchief.
Try to draw the eyeliner with the help of a special flat brush. After sprinkling it with water, remove excess liquid so that it is slightly damp. Dip in the shade. Apply eyeliner, as if driving shadows along the line of eyelash growth. Remember that the lines are not carried out by shadows, but are applied with energetic touches. Learn how to apply the eyeliner for classical make-up first and after that start the sophisticated techniques, for example, "Smokey Ice" and "cat's eye".