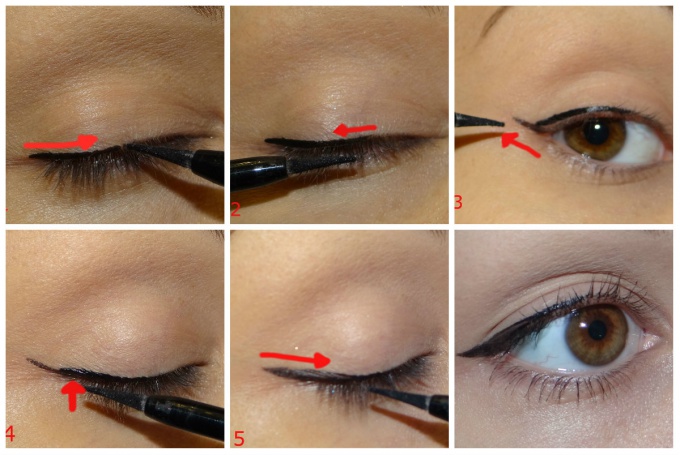 Arrows are a classic that does not lose its relevance. They fit almost all the fair sex.
There are a lot of types of shooters. The most famous of them are graphical arrows, they are also called "dior" ones. Drawing such arrows independently is not difficult. The main thing here is the accuracy, accuracy and experience that come with training.
Draw "diorovskie" hands better liquid matte eyeliner black. Although for starters, you can do with a black pencil. The first thing to do is to paint the interspace space with a pencil. This is necessary to ensure that the finished shooter does not have white patches and it has acquired a finished look.
Gradually approaching the outer corner of the eye, it is necessary to thicken the line. In this case, each next line should go above the previous one, and not go down the curve of the eye and close the previous lines. After the line is ready above the eye, you can proceed to the tip of the arrow. Begin this tip from the bottom of the previously drawn line.
The tip should, as it were, continue the lower border of the eye. It remains only to finish the smooth transition of the line above the eye to the tip, paint over the pencil with the eyeliner and the arrow is ready.
Drawing arrows is a matter that requires care and patience, because the arrows should be perfectly even and symmetrical.