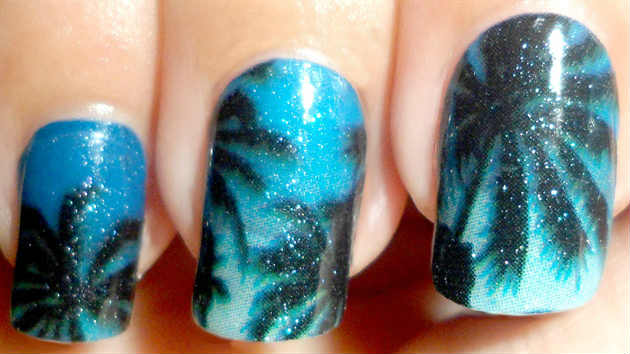 Have you missed the summer? And what if I depict it on my nails. A beautiful manicure with palm trees on the background of stars can be done in just a few minutes. And it is not necessary to visit a beauty salon.
You will need
-Base for nails
-White
-Разноцветные лаки
-Stacker
-Dot or toothpick
Instructions
Clean the nails from the old manicure. If necessary, use the nail file. Cover the nails with a base for manicure and let it dry thoroughly. Open all the varnishes and choose a bright blue color. Cover it with a nail in a uniform layer.
Wait for the layer to dry completely from step 1. then use a stitch or toothpick to draw a pair of trunks of your future palms with black lacquer.
Dark blue or black lacquer add foliage to your palm trees. Note that the foliage must have the shape of a curved rectangle. Use smooth lines to create a wind blowing effect.
Dry your nails completely. Cover with a layer of plain paint with sparkles of any color.
Complete your manicure by covering all the nails with a water-repellent base (fixer). Wait until it is completely dry. Your manicure with
palm trees
ready.