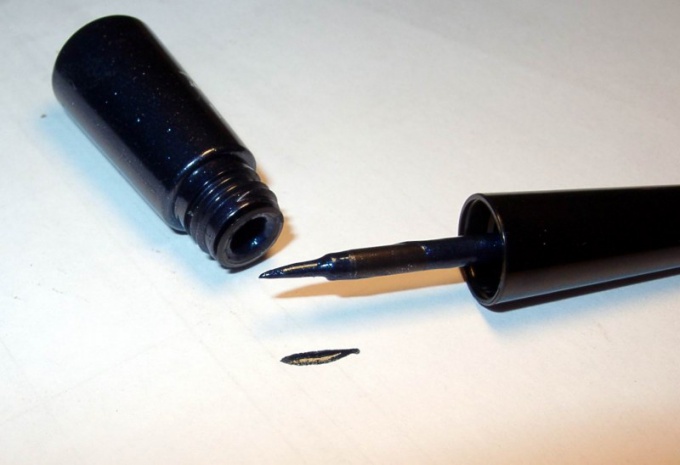 Liquid podvodka – an ideal tool to emphasize the beautiful cut of the eyes. With her help, you can visually increase the density of eyelashes, enlarge small eyes, enhance the brightness and shine of the iris. In addition, liquid podvodka easy to use – you just need to learn a few small tricks.
We choose podvodku
Liquid eyeliner is in the collections of many cosmetic brands – from luxury to budget. Before you buy your own copy, test the pods in the store. Put a few lines on your wrist and assess their brightness and saturation. Good puffing quickly dries, retaining a deep color and light natural shine. Rub rubbed lines with your finger – a quality product will not crack or crumble.
Estimate the density of the liner. The product should not be too thick, collecting lumps. However, an excessively liquid product will not work. The brush should be thin and elastic, without sharpening hairs. With the help of such a brush you can draw arrows of different thicknesses.
Select the color you want. For evening make-up, classical black eyeliner is suitable. In the daytime, color is more appropriate – chocolate brown, dark blue or gray. For special occasions, you can try a bright neon or glossy eyeliner.
Several methods of applying eyeliner
In order for the product not to spread and stay as long as possible, apply a fixed base and a thin layer of neutral shadows to the eyelids. If you are not sure that you can easily draw arrows with a liquid line, mark the lines with a contour pencil. Evaluate their symmetry, and then proceed to work out the arrows with liquid liner.
Begin to lead the line from the middle of the upper eyelid, holding the brush as close as possible to the roots of the eyelashes. Draw in thin strokes, superimposing them one on another. For more convenience, hold the eyelid with your fingers. Take care not to get too much money on the brush. It is desirable that the eyeliner does not fall on the eyelashes – drying out, it will make them stiff.
Drive the arrow to the outer corner of the eye. If your eyelids are down, slightly raise the tail of the arrow up. Then continue the line to the inner corner of the eye. Lower eyelid do not bring, it is better to emphasize the shadows or soft pencil. Do not apply eyeliner and mucous membranes – this can cause severe eye irritation.
Make sure there is no clear gap between the arrow and the line of growth of the eyelashes. If this happens, gently paint the lumens with eyeliner or shadows in the tone. Be sure to make up eyelashes, giving them a beautiful bend – this will make the makeup complete.
To visually enlarge the eyes, widen the line of the eyeliner at the outer corners of the eyelids. If desired, the line can be slightly shaded with an applicator. Do this immediately after application, while the tube has not yet frozen.