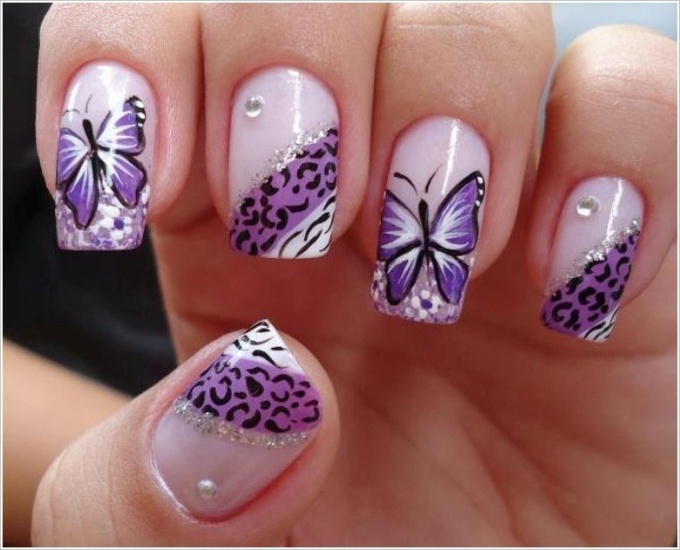 Beautiful nail design does not have to be some kind of complicated and mysterious. Even a simple butterfly can make a manicure unusual, stylish and very original. Draw a butterfly on the nails is easy, if you know what tool is being used. A lot of girls want to see not just a beautiful and monotonous manicure, but also a stylish ornament on it. A drawing that never goes out of style is a butterfly. Moreover, it is not difficult to draw it if you follow a simple technology.
Necessary materials and tools
Since the nails are a rather small area for drawing, special tools will be needed. For example, dotz and striper. Dots is a needle with a ball on the end, a special tool for nail art. Stripper is a very thin brush. It can be short or long. Butterfly draw is more convenient shortened striper. If you do not have anything close at hand, you can replace tools with homemade tools. For example, dots can be replaced with a toothpick with a ball of cotton wool on the end, and a stripper with a tassel from the eyeliner. These substitutes to draw as conveniently as a professional tool.
You can paint a butterfly with acrylic paints for painting, or with nail polish. The second is less convenient, because varnish quickly it dries up, it is not always convenient for them to draw small elements. Acrylic colors can be purchased at any stationery store.
Step-by-Step Technology
Prepare your nails for manicure, apply the base and the base color. Allow to dry. After that you can start drawing butterflies. Decide where the picture will be. It is more expedient to draw a butterfly or on an anonymous finger, or on two neighboring nails. For example, the index and the middle (each wing on his finger).
First, draw the body of the future butterfly, head and antennae. After that you can draw wings. Do not press hard on the brush, so that the lines turn out to be light and thin. The shape of the wings depends on your imagination. They usually have a sharp tip and an elongated shape. This visually makes the nail slimmer and thinner. But sometimes the wings are drawn and rounded. It's a matter of taste and imagination.
Allow the contour to dry, then fill the wings with paint or varnish of the desired color. As in the children's coloring, the main thing here is not to cross the contour. You can apply shine to the wings or body of the butterfly, sprinkle the picture with a glitter, or draw an unusual pattern on the background to complete the composition. Points are better to put dots or toothpicks, and draw small curls with a fine brush. Ready and dried pattern, cover the top (finishing) layer of clear lacquer. It can be a special tool for protecting the design on nails, which lasts much longer than a simple colorless varnish.