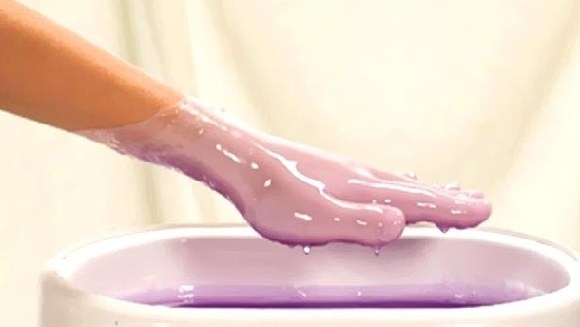 Paraffinotherapy is one of the pleasant procedures for skin care with the use of heated paraffin and baths from it. Paraffin application can be done on almost any part of the body, but it is most common for the care of the skin of the hands.
Парафинотерапия помогает увлажнять и питать кожу, делает ее подтянутой и невероятно гладкой. Горячий парафин нормализует кровообращение, очищает поры и помогает выводить шлаки и прочие вредные вещества.
Paraffinotherapy is effective for all skin types, but it especially affects the fading and dry skin, transforming it literally before our eyes.
Косметический парафин для процедуры можно купить в аптеках или косметических магазинах. Парафин может быть просто очищенным, а может содержать ароматические отдушки. Также в парафин можно самостоятельно добавлять несколько капель любимого эфирного масла. Количество парафина, необходимого для проведения процедуры на руках, должно быть не менее 500 грамм. Для парафинотерапии парафин необходимо растопить на водяной бане, а в это время подготовить руки к процедуре: тщательно вымыть, очистить кожу с помощью любого скраба и нанести питательный крем. Чтобы не обжечься парафином, нужно проверить его температуру. Для этого достаточно капнуть его на тыльную сторону руки. Парафин должен согревать, но не обжигать кожу. Если температура парафина комфортная, можно наносить его на руки. Для этого руки опускаются в растопленный парафин буквально на несколько секунд, вынимаются на 10 секунд и снова погружаются. Процедура повторяется 5-6 раз, в это время на руках образуются своего рода парафиновые перчатки. После этого на руки нужно надеть просторные полиэтиленовые перчатки, а сверху махровые рукавицы. Маска из парафина должна быть на руках как минимум полчаса, после этого ее нужно удалить. После процедуры не рекомендуется заниматься домашней работой как минимум несколько часов, а если парафинотерапия проводится в холодное время года – нельзя сразу выходить на улицу.
The used paraffin can not be used a second time, since it no longer possesses any useful properties.