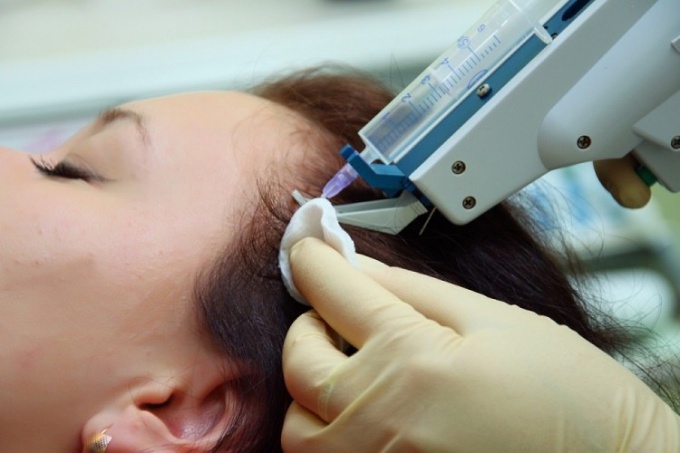 Mesotherapy of the head is a procedure developed relatively recently. Vitamin and firming cocktails, which are injected with a thin needle into the skin, help to activate hair growth, strengthen and repair damaged bulbs and solve a whole complex of problems related to the health of scalp and hair.
Instructions
To take a course of mesotherapy of the scalp, you need to visit the beauty salon. When choosing this institution should focus on
reviews
regular customers and recommendations of friends who successfully passed the course of mesotherapy of the scalp and were satisfied with the result of the therapy.
The course of treatment consists of 10-15 procedures. Repeated mesotherapy of the scalp is recommended after 6 months. Noticeable progress is noticeable after the first course of therapy. Hair ceases to fall out, their growth increases. Besides,
after mesotherapy
completely disappears dandruff, and the process of fat separation is normalized.
Careful preparation is necessary before mesotherapy. For 3 days before the injection completely reject the medications that affect the process of blood clotting, do not take antibiotics, alcoholic beverages and hormones, do not dye your hair and do not do long-term styling.
The procedure is carried out by appointment. Therefore, visit the cosmetic salon in advance and get professional advice from a cosmetologist about the indications and contraindications.
The course of injections with mesotherapy is almost painless. You will be put in a comfortable armchair, they will treat the scalp with an alcoholic solution with an anesthetic. A prepared vitamin or restorative cocktail will be injected into the scalp with the help of microinjection. In 40 minutes you will be able to leave the beauty room and do your usual business. The only limitation after mesotherapy is that the head can not be washed and soak 48 hours.
The main indications for mesotherapy: diffuse hair damage caused by various causes, focal loss, elimination of negative consequences after staining, chemical wave, androgenic alopecia, seborrhea, fragility, earlier graying.
The procedure of mesotherapy has a number of contraindications. Microinjection can not be done during pregnancy and lactation, with cancer, violation of the integrity of the skin, diseases of the hematopoiesis system, psoriasis, eczema, allergies, individual intolerance of components of vitamin or fortifying cocktails. In the period of acute diseases, it is also not worth visiting the beauty salon and starting a course of mesotherapy with the scalp.