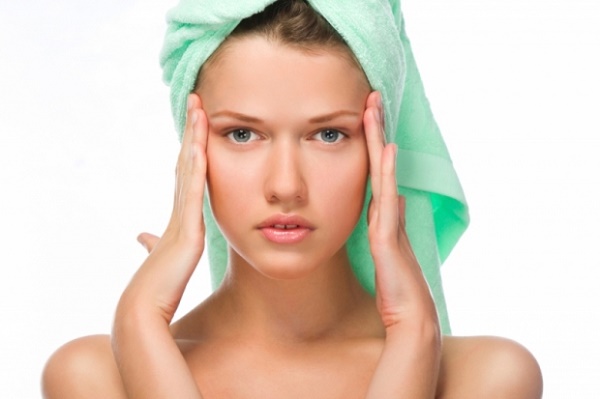 Massage from wrinkles is not difficult to do, and the effect you will feel right away. Most importantly, do not be lazy and massage your face and neck at least three times a week.
Beautiful face oval
Apply a little of any face cream on the lower contour of the face (from the chin and up to the ears) and begin to gently pinch the skin from the middle of the chin to the ears. Do not delay the skin. Do this massage for two minutes. Then start stroking, also from the center of the chin to the ears, fingers of both hands. Run 2 minutes.
Perfectly smooth forehead
Take a drop of cream on the index finger and place it between the eyebrows. Then slide your finger from this point to the temples (above the eyebrows). Do 10 times on each side. Then place three fingers of each hand in the middle of the forehead and stroke them towards the hair, pulling the skin a little. Do 3 minutes.
Eyes without "crow's feet"
Apply a little cream on the pads of the index and middle fingers of both hands and start tapping them lightly around the eyes. In the upper eyelid, move from the inner corner of the eye to the outer corner. In the lower eyelid, from the outer to the inner. Tap 3 minutes. But rubbing the area around the eyes is absolutely impossible, otherwise wrinkles will be even greater.
Down with nasolabial folds
Take a little cream and 3 minutes massage the nasolabial folds with the fingers of both hands, moving from the lips to the bridge of the nose up and down. Then start to smooth the skin, from wrinkles to cheekbones. It is most convenient to do this with thumb and forefinger. Execute 10 times.
Stretched neck
Смажьте ладонь любым кремом и нанесите его на кожу шеи поглаживающими движениями. Двигайтесь снизу вверх по всей передней поверхности шеи. Выполняйте 3 минуты. Потом выполните легкие постукивающие движения пальцами. Подбородок при этом должен быть чуть-чуть поднят, а кожа на шеи натянута.