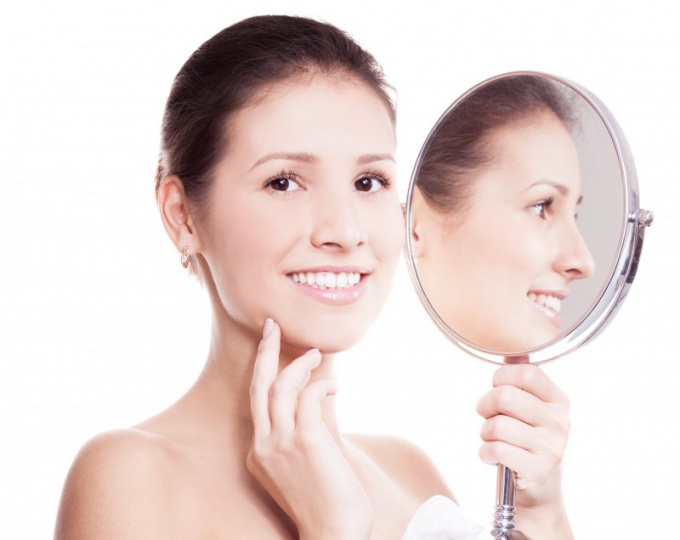 A pimple suddenly appeared on the face can spoil the mood of any person. To always look perfect, you need to learn how to properly mask the inflammatory elements on the skin.
Masking acne on the face
Acne can greatly damage the appearance of a person. To hide this flaw, it is important to learn how to mask pimples so that they become invisible to others. If the inflammatory elements have protruded all over the face, then this is unlikely to work. If we are talking about the masking of individual acne, it is quite possible to disguise them unnoticed.
Before you begin to disguise acne, you need to thoroughly cleanse your face and treat all the inflammatory elements.
Cosmetologists recommend handle acne special desiccants. Apply them with a cotton swab.
After the face is cleaned, it is necessary to apply a greenish tint to the inflammatory elements. Green color neutralizes redness, which makes it possible to make acne imperceptible.
Next, you need to put on acne a little foundation or tone corrector beige shade and powder the face with a translucent powder. To put a dense tonal basis on all face it is not necessary. This makeup looks sloppy and careless.
To disguise acne, it is best to purchase a special pencil-corrector in the pharmacy or department of cosmetic products. In appearance, it is a bit like a tube with a lipstick. One side of such a product has a greenish tint, and the other is a solid one. Using them in the above described sequence, it is possible to achieve a qualitative masking of the inflammatory elements.
Rules for caring for problem skin
To prevent acne no longer appear on the face, it is necessary to observe a number of elementary rules. The most important in this case is the proper cleansing and treatment of inflammatory elements. It is desirable to use high-quality cosmetics with antibacterial effect.
Mask the pimples only before going out. AT domestic conditions It is better not to abuse the use of tonal funds, but to pay attention to the treatment of inflammatory elements. Drying them and preventing their further appearance will help treatment with a means containing tea tree oil.
If there are frequent rashes on the face, you should consult a beautician who will prescribe the correct treatment. After treating the skin in the disguise of pimples and rashes, most likely, there will be no longer any need. And the subsequent competent care of a skin will serve as an excellent preventive maintenance from occurrence of new rashes.