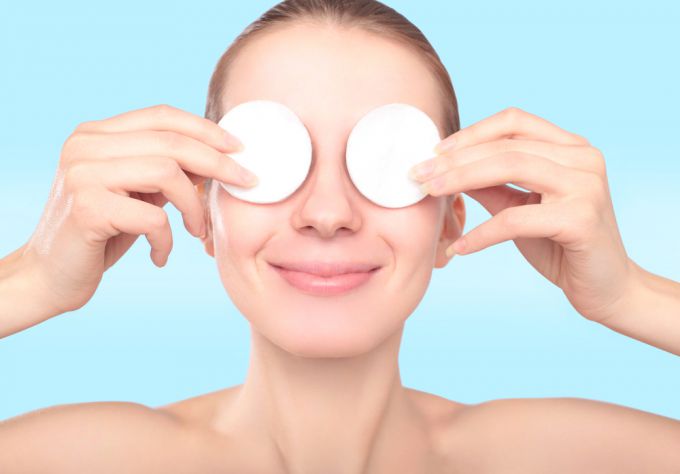 В современном ритме и стиле жизни многие страдают таким неприятным явлением, как припухлость век. Это старит лицо и придает ему нездоровый вид. И касается это не только женщин, но и мужчин.
Припухлости, или скопление излишков жидкости из организма в мягких тканях век, возникают по многим причинам. Основные из них: частый стресс, прием соленной или острой пищи в больших количествах, регулярный (хронический) недосып, употребление жидкости перед сном, реакции в организме, связанные с аллергией, и гормональные сбои у женщин, связанные с критическими днями.
It is worthwhile to distinguish between the swelling and bags around the eyes. Occurrence of bags can talk about serious diseases of the thyroid gland or kidneys.
The swelling of the eyelids can be a symptom of the disease. Therefore, it is recommended to consult a doctor.
Before you start an independent disposal of the swelling of the eyelids, you need to see a doctor to exclude any disease. If the swelling of the eyelids is associated only with the wrong diet or sleep, then you can fight it yourself at home conditions. There are several ways for this.
Одним из наиболее популярных способов являются специальные маски для век из натуральных продуктов. Стоит заметить, что такие маски снимают не только отечности, но и помогают в устранении мешков под глазами. Такие маски можно сделать из продуктов, которые есть в холодильнике в каждом доме. Они просты в приготовлении.
If the swelling of the eyelids is not associated with the disease, then it can be handled independently at home.
Самая простая и легкая маска из петрушки. Для ее приготовления есть несколько способов. Первый: свежую, вымытую петрушку мелко порубить, равномерно наложить на веки и обязательно прикрыть сверху ватными дисками, смоченными в воде. Второй: петрушку мелко нарезать, добавить 2 чайные ложки сметаны, перемешать до однородности и нанести полученную смесь на веки. Такие маски держать надо на глазах 10-15 минут, после чего аккуратно смыть теплой водой.
Хорошо помогают в борьбе с припухлостями век и компрессы из петрушки, ромашки и шалфея. Причем они хороши как по отдельности из каждого растения, так и в смешанном виде.
Компресс из петрушки помимо отечности снимает еще покраснение и раздражение век. Его можно использовать для экстренного снятия результатов аллергической реакции. Например, при конъюнктивите или аллергии на косметику. Для его изготовления достаточно 1 столовую ложку измельченной петрушки заварить крутым кипятком, настоять в течение 15 минут и отфильтровать. Затем дать отвару немного остыть, и промочить в нем ватные диски. Держать их на веках рекомендуется около 10 минут.
Compress from the broth of sage should be done in contrast: alternately apply to the eyes of cotton wool, then with a warm, then with a cool broth. To prepare the broth, you need 1 teaspoon of sage to brew half a cup of boiling water and insist about 10 minutes. Next, filter and divide into 2 jars. One wrap in a towel to keep it hot longer, and the second – to clean in the refrigerator and cool. Vatki with broth of different temperatures apply alternately for 5 minutes, several times. To conduct such procedure it is necessary every evening directly before a dream within one month.