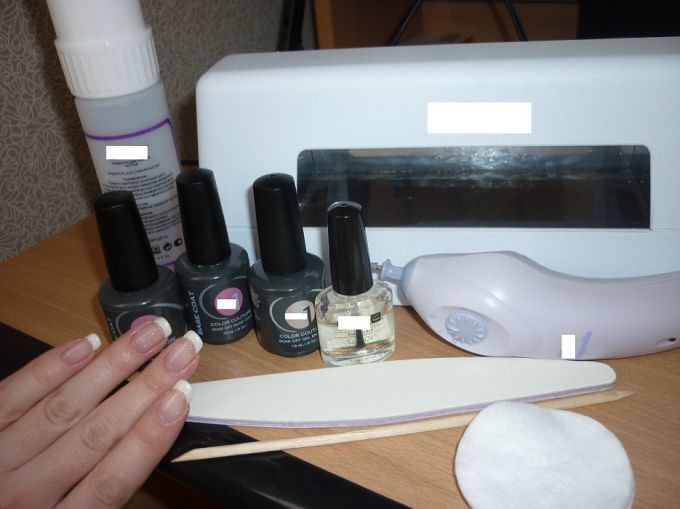 Manicure is one of the components of the image of a woman, but it is not always possible to do it. An exit from a situation can become a shellac coating. Shellac is a resistant coating that lasts up to three weeks on the nails. Manicure with this coating can be done at home.
You will need
UV lamp, orange stick, nail file, electric manicure kit (you can do without it), sponge, degreaser, base, color coating shellac, top, liquid to remove the sticky layer, cuticle oil.
Instructions
We process the nail. We give the nail the necessary shape and length. Remove or move the cuticle with a stick. Then it is necessary to polish the entire nail so that it becomes even (you can use a nail file or a manicure set electric).
When all the nails are processed, degrease the nail plate, this is necessary for better adhesion of the nail with shellac.
Then proceed to the direct application
shellac
. First we put the base in one thin layer, dry in a UV lamp 1 minute. If the excess has got on the skin around the nail, then we remove it with a stick before we dry it in the lamp.
Then cover with colored shellac in 2 layer, each of which is dried for 2 minutes.
And the last step in the application, the color coating is topped in an 1 layer and dried for 3 minutes.
After the dried top, the nail remains sticky, for this it is necessary to take a sponge and apply liquid to it to remove the sticky layer and just wipe the nail. In this case, the coating will become more glossy.
The last stage of the whole process. Lubricate all the skin around the nail with oil, first it will feed your nails and secondly the nails will have a healthier look.