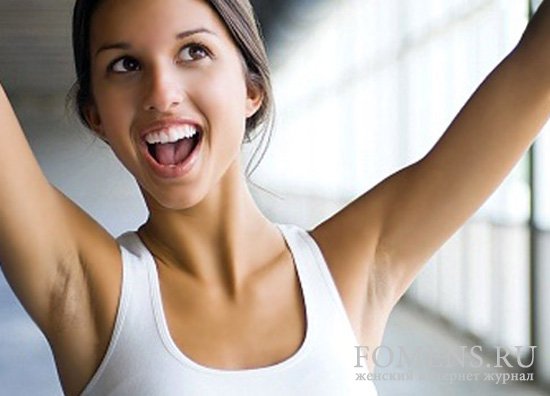 In summer, almost every person increases sweating, and this problem applies to both men and women. Often, even the most expensive and advertised deodorant does not cope with this task and will not protect you from sweat and unpleasant odor. In such cases it is still better to turn to folk medicine and those recipes that were used long before us.
Underarms
Cope with sweating in the armpits area is simple enough, the main thing is to know a few simple recipes. All the ingredients are available and certainly there is every house.
Infusion of excessive sweating in the summer will help infusion of chamomile. Prepare it very simply: for 2 liters of boiling water, take 6 tablespoons of chamomile flowers and insist them for 1-1,5 hours. In the resulting infusion, add the 2-3 table. Spoons of soda and rub them skin in places of sweating.
For the armpit zone, the following recipe also fits well: brew 2 a bag of green tea with half a cup of boiling water and add the juice of one lemon. The resulting composition, cool to a comfortable temperature. Apply this infusion several times a day to problem areas, moistening in it the usual cotton swabs.
Walnut leaves are also able to help overcome sweating. Their principle of action is to normalize the skin's release of moisture. Leaves of walnut should be insisted on vodka, taking the proportions of 1: 10. For larger volumes, the infusion can be diluted with boiled water. Wipe with this infusion the armpits area in the morning and in the evening.
Skin of feet
In the summer, many people are faced with the problem of high feet wetness. Of course, it rewards discomfort and contributes to the appearance of an unpleasant smell. There are several correct ways to solve this problem.
A good antiseptic and deodorant is a herbal bath. To prepare it you will need an 1 table. spoons of nettle leaves, mint and sage. The resulting mixture should be insisted on 1 liters of boiling water. Let it brew for 40 minutes and strain the solution to obtain a uniform consistency. Infuse cool and add to the basin with water. Hold the legs in such a bath for 15-20 minutes and repeat the procedure 1-2 times a week.
If the sweating manifests itself very much, try to make a bath of decoction of the bark of oak. This is a very effective and time-tested tool. Fill the 100 g of bark with one liter of boiled water. Put the container on a slow fire and boil 20 min. Decoct the broth and pour into a basin with cool water. Hold the feet in the tub about 30 min and dry with a towel.
To cope with the sweatiness of the feet will also help washing the feet with a saline solution. For its preparation, you need an 2 table. spoons of sea salt and 2 glasses of hot water. Dissolve salt in it and cool to room temperature. Rinse the resulting foot solution in the morning and evening and the result will not wait for yourself.