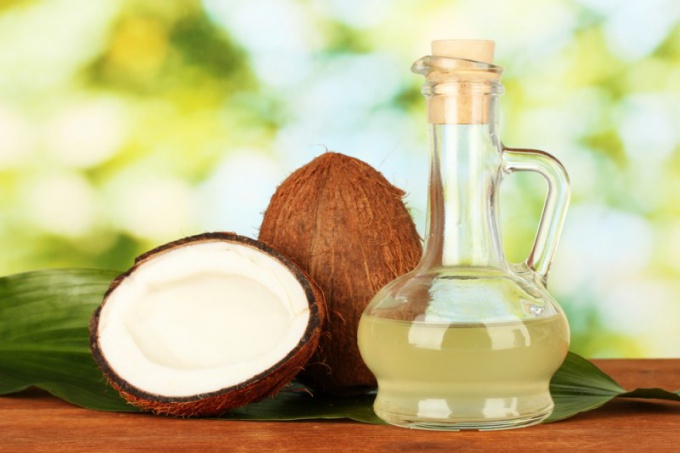 Coconut oil is a popular and effective cosmetic. It is added to the bath, used as a sunscreen, used as face masks.
Coconut oil is a wonderful hair care product. It is evenly distributed over them, covers them to the very tips and reliably protects them from chemical and mechanical influences. Coconut oil gives hair a shiny and healthy appearance, preventing the loss of protein.
Natural coconut oil is easily prepared in Home conditions. To do this, take a dry or fresh flesh of the fruit, pour it with boiling water and hold it for two hours in a water bath. Then wring out the pulp, and place the liquid in the refrigerator. Fresh oil forms on the surface after the liquid has solidified.
Coconut oil is a solid. In a cool room or in a refrigerator, it freezes and becomes opaque. The oil quickly melts not only in a microwave oven and in a water bath, but also in the hands of their heat. The melted butter is easily applied to the skin and hair. In the melted state, it becomes liquid and transparent. This tool is very dense and fat, so it will take quite a bit to apply it.
From natural coconut oil you can make an excellent hair mask. To do this, melt some money, distribute it along the entire length of the hair, rub it into the scalp, put on the hair food film and keep as much of the time as possible (preferably at night).
If the scalp is oily, then the oil will wash off very badly and the hair will remain greasy. In this case, it is recommended to mix it with less fatty oils (almond, sesame, pumpkin, jojoba). Also, coconut oil can be mixed with sour cream, but before use, the products should be warmed up so that the oil does not freeze.