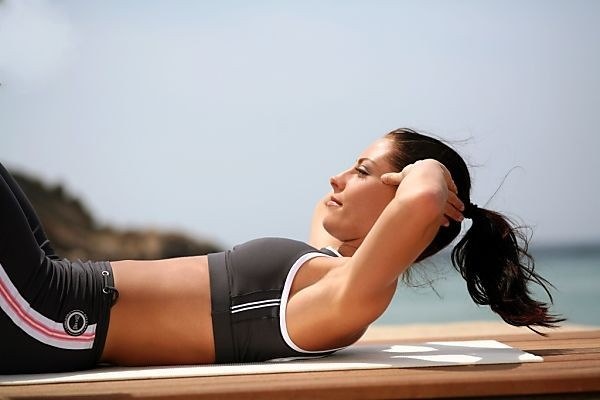 Volumetric abdomen and cushions on flanksx spoil the silhouette and mood. To get rid of these shortcomings will help properly chosen diet and a set of exercises that need to be performed on a daily basis. Make changes to the day mode. Walking, morning jogging, restful sleep and a balanced diet will help speed up the process.
Efficient nutrition
Reduce the waistline will help a balanced diet. Do not cut the diet too sharply, excess fat should go away gradually. Refuse from smoked foods, pickles, fast food, reduce the amount of sweet. Eat more boiled and raw vegetables, as well as whole grain cereals. Be careful with fruits and freshly squeezed fruit juices, they are caloric and can cause bloating. But vegetable juices are very useful, they improve metabolism and help get rid of extra pounds. Prepare delicious mixes from cucumbers, tomatoes, celery.
Drink more pure still water. Varied pops replace with homemade fruit drinks with a minimum sugar content, as well as compotes from dried fruits. Once a week it is useful to spend unloading days: cucumber, watermelon, kefir or cottage cheese.
Physical exercise
Walking, jogging and swimming speed up the metabolism and contribute to the overall improvement of the body. However, these exercises will not help tighten flaccid muscles and remove fat from problem areas. To create a waist and an elastic press, you will have to exercise daily special exercises. You do not have to go to the gym, you can do it at home. The main thing is regularity. In a union with reasonable limitations in nutrition, a set of exercises for the muscles of the abdomen works wonders.
Before classes, razmomnites. Dance for a few minutes to the rhythmic music, jump through the rope, do some swinging with your hands and feet. Then start training. Each exercise should be performed 10-12 times at a moderately fast pace. Watch your breath. Start with one repeat, gradually bringing up their number to 4. Between repetitions it is recommended to rest on 30-60 seconds.
Perform a complex of inclines back and forth, to the sides. Then rotate the body to the right and left. Do exercises with maximum amplitude, making sure that the press and oblique abdominal muscles are straining.
Lying on the floor, lift straight legs first at an angle of 30 °, and then at right angles. Raise your legs, hold in this position for 8-10 seconds, pulling your stomach. Knees do not bend. This exercise perfectly strengthens the press. Slip the toes of the legs under the prop and from the prone position sit down, keeping your back straight, and your arms crossed at the back of your head. Do not rush, feel the work of muscles.
Strengthen the oblique abdominal muscles will help lateral twisting. Lying on your side, raise your straight legs and upper body, leaning on your elbow. Stand on your knees, and then alternately sit to the right and left, while swinging with straight hands in the opposite direction.
Straight abdominal muscles can be strengthened by a simple exercise. Draw the abdominal wall every 20-30 every hour, holding your breath on inhalation. At the end of the day you will feel that the muscles are tightened. A week of such activities will help remove excess fat and saggy skin.
Additional measures for a beautiful waistline
Self-massage will help to form a waist. Daily rub the sides with the edge of the palm, pinch the skin, warming it. In conclusion, apply on the abdomen and waist area a forming gel with an extract of algae or red pepper. These remedies help remove excess fat and tighten the skin. The result is a beautiful and smart silhouette.
Other home procedures also help. Try wrapping from coffee grounds and vegetable oil, grinding with a scrub of barley cereal or oatmeal mixed with salt. Such procedures can be done twice a week, and then necessarily moisturize the skin with a gel or cream.