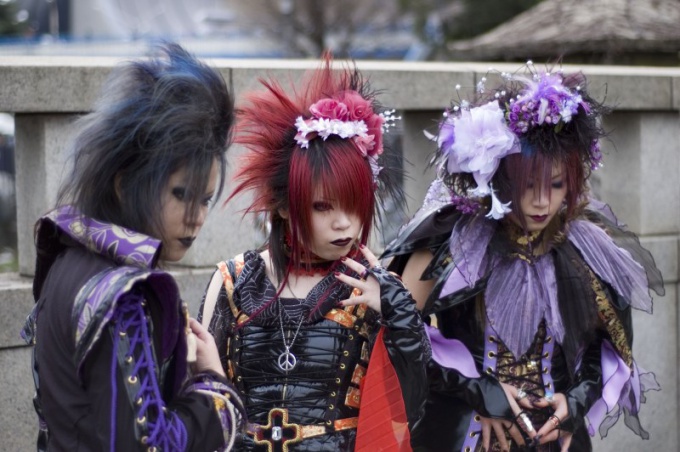 Style "trash" involves a challenge to society, the rejection of the canons of beauty and style. Street fashioners create unusual, catchy and vivid images for every day. The most popular trash is used by modern musicians and photomodels, who refused glamor in favor of the new trend.
Trash hair for short hair
An indispensable attribute of any trash-style hairstyle is a long bang that is combed to give more volume, milled or laid so that it casually falls, covering half of the face. Asymmetric bangs perfectly combined with short haircuts, creating a contrast between shaved temples and a long "mane".
Trash will be to the taste of everyone who loves bright, unusual hair colors. In addition to radical black and white shades, the mods prefer pink, green, blue, violet. To paint hair in one tone or to focus attention on several locks, to solve to you. Often in male and female hairstyles, stencil staining is used, creating intricate patterns on the hair: chessboard cells, wild animals coloring, flowers and ornaments.
How to choose a trash style for medium length
The most popular trash-haircut for medium length of hair is a cascade. To do this, the strands are trimmed asymmetrically and thinned with thinning shears. This hairstyle is suitable for everyone, regardless of the shape of the face and age, since an experienced hairdresser can vary the length of the strands and the volume of the hairstyle.
Often, to create volume and give the hair even more unusual fashionable women use strands of artificial hair, which are weaved into the hair or fixed on the head with special glue. Thus, you can make a multicolored trash-hairdo, without risking to spoil the hair with paint. Another alternative to radical staining is special hair crayons. Such a paint is non-toxic, harmless to the structure of the hair and easily washed off with water.
Trash haircuts for long hair
A popular element of the trash-style are all kinds of pigtails and dreads, including using artificial strands, laces and ribbons. Such an accent will help you make a unique hairstyle for a party or for every day. Also widely used hair accessories: bows, bandages and hairpins, reflecting your lifestyle. Emo-kits, for example, exploit the aesthetics of animation and Gothic. A ribbon with skulls will perfectly complement the everyday trash-image.
Hairstyles in the style of "trash" on long hair – it's always a bright color. You can make a fashionable toning "degradation" using your natural color at the roots and some bright tone on the tips: pink, green, blue, black – choose your favorite shade, because there are no restrictions for trash!