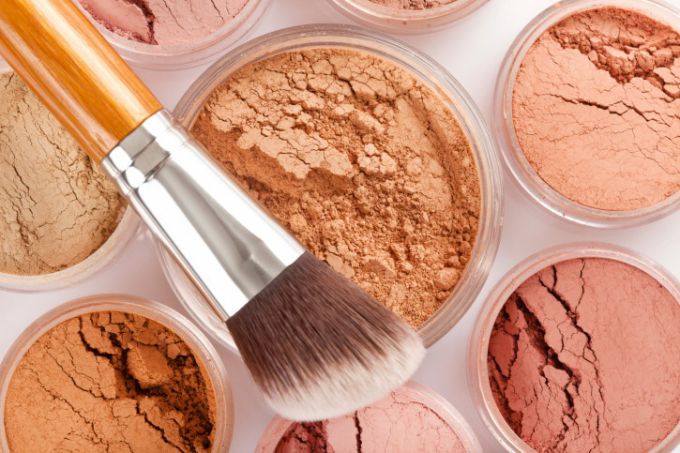 Face powder is the basis of makeup, because even if you do not have time to do full eye make-up, a light layer of powder and a little lipstick will make your face much fresh. But the wrong tone can completely ruin any image, add you a few years and create a ridiculous appearance. What are the rules to consider when searching for "your" powder?
It is recommended nevertheless buy powder two colors, because during the season and even for two weeks our skin can change color, it depends on different seasonal factors. If you are disturbed by dark circles under the eyes, powder of warm, golden or pink shades will ideally cope with them, due to their warmth they neutralize the blue.
For the summer season, it is preferable to choose a darker shade, especially if your face is easily sunburned. For the skin of a porcelain shade, choose the lightest tone with the FAIR mark and do not be afraid to make a mistake better than a little color inferior than subsequently applying a darker powders Your face will look like a brown stain on the background of the rest of the body. Skin light shade, but slightly tanable, choose powder with the mark LIGHT, as a rule, just a little tepid hue. If you can not relate your skin to a specific tone, choosing between light and medium, for a similar type there is a special powder LIGHT-MEDIUM.
And, accordingly, girls with a medium shade of skin can safely take MEDIUM powder. If you are a swarthy, with dark hair, eyebrows and eyelashes, your tan is easily laid on your skin and you never burn, perfect powder for you will be with the tag TAN. Many also use it as a bronzer to correct the shape of the face and to allocate cheekbones.
How to use powder for the face, and which brush to give preference?
Many girls, without hesitation, use the sponge, which comes in the kit, but in fact you do not need to do this. Sponge puts on face too thick layer powders, which often causes the effect of "plaster" with constant repeated application during the day, sooner or later it will start to simply fall off pieces.
Get a special, wide brush, make sure that it is tightly packed. Apply on massage lines, preliminary slightly blowing off excess powder. When choosing between compressed and friable means, remember that pressed powder suitable only for removing greasy shine during the day, if you are out of the house.
It is not always recommended to use it, because it contains a large amount of buffer substances, which allows you to keep it in its form. These substances may not have a very favorable effect on the skin, so it is better to give preference to friable powder, since there is nothing superfluous in its composition.
Choosing between ordinary powder and mineral, rely on your skin condition: if there are regular rashes, redness, it is better to give preference to mineral, as it has a drying and healing property.
Do not forget about regular cleansing, since cleaning your face from clogged pores can be a difficult task, if you do not remove even the lightest powder and the rest of the makeup before going to bed.