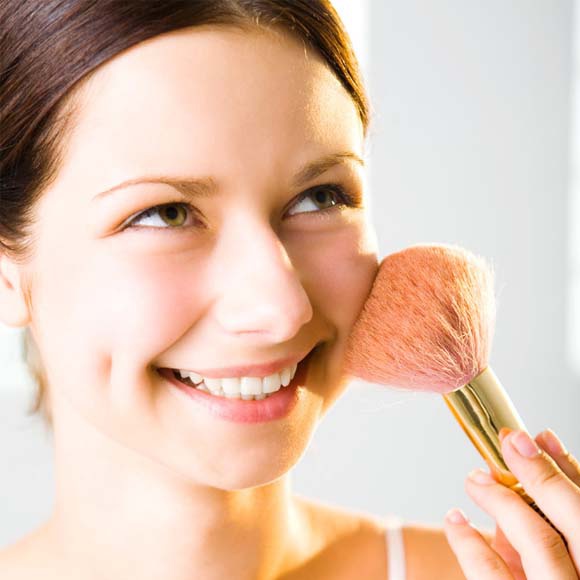 In modern markets there is a huge assortment of different types of powder: crumbly, hard, cream-powder, with the effect of flickering, with the effect of sunburn, etc. But how to choose the right powder for you?
First, determine the purpose of using powder: correction of inflammation, smoothing the skin, smoothing the complexion or simply giving a light tint. The main aspect, the powder should be light, not clogging the pores of the face. The most important thing in choosing a powder is choosing the tone. The powder should be exactly in the complexion, but the tone is also slightly lighter. But if you have any problems with the definition of the tone, then there is an alternative option, a transparent powder! A special feature of this powder is its independent adaptation to the color of the face. There is also a difference in structure: the powder can be friable, solid, compact or rolled into balls; matte or shiny.
Friable powder is the most popular since. Great for any foundation and well absorbed. It is best to choose a powder without mother-of-pearl content. This will add to your skin an extra "greasy" shine. For oily skin is best to choose powder, which includes: talcum, zinc oxide. This powder is best for correction of inflammation, acne and smoothing of complexion.
Solid compact powder also has a high popularity. It is convenient to carry around with you to correct make-up throughout the day. Apply this type of powder should be neat, puff. You can also use hard powder as a cream powder: a feature in its application is a well-moistened sponge for make-up. A good option for leveling the relief of the face.
Powder in balls, или "метеориты",- один из самых современных видов пудры, сочетающий преимущества компактной и рассыпчатой пудры. Благодаря сверхтонкому помолу компонентов она легко наносится кисточкой и скрывает дефекты кожи. Мельчайшие перламутровые частицы отражают свет, усиливая маскирующий эффект.