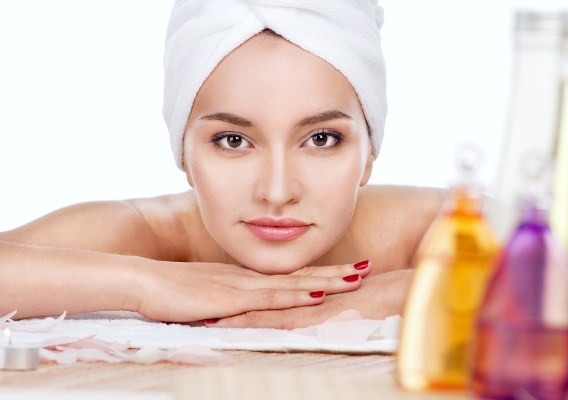 Жирная кожа не склонна к раннему образованию морщин, истончению и чрезмерной чувствительности. Зато она легко воспаляется, блестит, отличается расширенными порами и неровным рельефом. Корректировать недостатки жирной кожи поможет правильно подобранная косметика. Один из важных этапов ухода – тонизирование с помощью обезжиривающего и увлажняющего средства.
Tonics: product features
Тоник – жидкое средство на водной основе, предназначенное для очищения кожи, удаления остатков косметики, пыли и кожного сала. В состав продукта могут быть включены травяные экстракты, уксус, квасцы, ментол, борная кислота, глицерин, камфара, разнообразные эфирные масла. Более мягкие тоники не содержат спирт, но жирной коже показаны средства с небольшим процентом этилового или салицилового спирта. Он хорошо растворяет вырабатываемое кожей сало, эффективно очищая поры.
On sale you can find moisturizing, astringent, refreshing tonics. The mildest option – moisturizing – contains a minimum of alcohol and glycerin, which retains moisture in the skin. Such tonic can be packed in vials with a spray – they are very convenient to use, spraying liquid on the face, neck and decollete.
More powerful cleansing tonics are called to complete the process of make-up. They can contain up to 20% of alcohol, as well as extracts of herbs – mint, witch hazel, rosemary, sage or nettle. Very useful tonic based on thermal water – they stimulate cell renewal, cleanse the skin well and do not overdry it.
Very oily, shiny skin needs matting tonics containing mineral powder, which adsorbs excess sebum well. Such products should be shaken before use and applied with a cotton swab.
For inflamed skin areas, astringents with an increased content of alcohol, menthol, camphor, tea tree oil are suitable. They are applied to pimples and inflammations, trying not to get on the delicate skin around the eyes. Therapeutic tonics well dry the skin, treat existing inflammations and prevent the appearance of new ones.
Choose a suitable tonic
Good tonic is in the cosmetic lines of different price groups. Try to buy funds without dyes and sharp fragrances that can irritate the skin. Very high-quality products can be found among pharmacy brands. Such tonics can not only matte and refresh your face. Some have a lifting effect, actively moisturize or well exfoliate the skin.
On sale there are means of different volume. For daily use, you can buy large bottles with dispensers, for trips there are special travel versions. Cosmetologists recommend using tonic together with other products of the same line – so cosmetics will act particularly effectively.