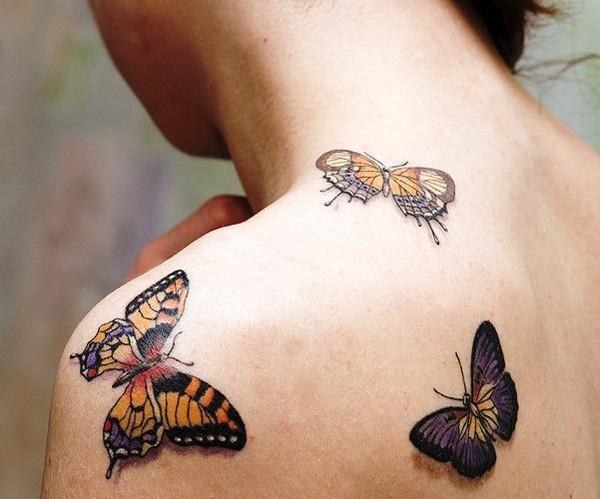 To remove a tattoo is extremely difficult, and therefore, you need to pay maximum attention to the choice of a suitable sketch, so as not to regret the mistake all your life. Consider everything, starting with the desired cost of the service and ending with personal preferences.
На что важно обратить внимание при выборе эскиза
First of all, think about where you want to tattoo a tattoo. For example, on the back you can make a luxurious big drawing, on the lower back beautiful symmetrical fine images look, and at the wrists traditionally draw bracelets. Also, remember that over time the body changes, and the pattern can be severely deformed due to this. It is for this reason that girls who plan to have children are not recommended to do tattoos on their breasts.
Do not forget that the harder and bigger the sketch, the more expensive the tattoo is. If you do not want to spend a lot of money, choose small images.
Think about what it should symbolize the tattoo. It can remind you of important events in your life, inform others about your worldview, status, character, preferences. In the end, a tattoo can become an amulet. Having determined those values ??that interest you, you can easily weed out most of the images and greatly simplify the search process.
How to choose an image for a tattoo
When deciding which sketch is suitable in your case, try to find a photo of the finished tattoo with the image of interest to you. The fact is that often on the body the picture looks completely different than in the catalog. In order not to regret your choice later, see photos of other people who chose this option.
Consider that much depends on choosing a place for the tattoo. On the shoulder, back and ankles the same image may look completely different.
When you determine the appropriate size, the color of the tattoo and decide what exactly should be depicted, try to find as many variants of the drawings as possible. Do not concentrate on tattooing alone: ??an experienced master will be able to sketch from a photograph. This is especially true for people who want to choose an original piece of jewelry and have long been tired of traditional drawings.
Think about what additional elements you can use in your tattooing. This is especially true of the inscriptions, which, as a rule, are strictly individual. Choose the appropriate font, think about the location of each element. This will allow you to create a unique image that will perfectly match your character and preferences. If you do not draw well, do not hesitate to contact the master for help: he will be able to modify the chosen drawing so that the result is a special tattoo for you.