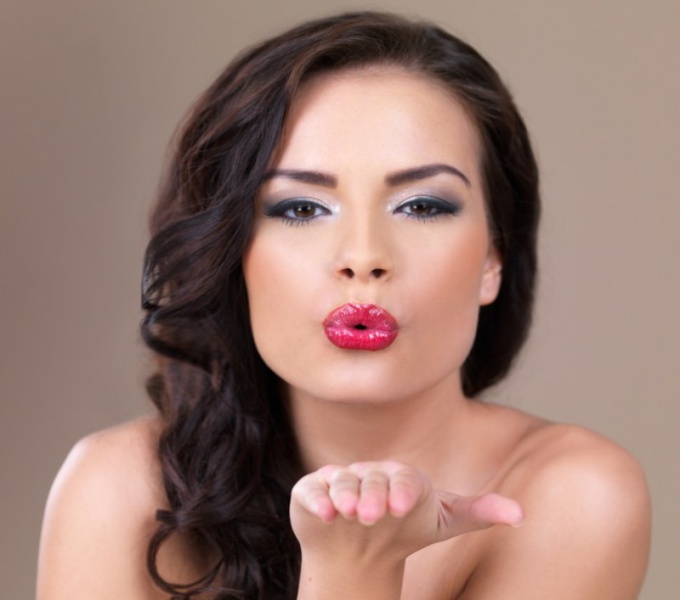 The color of lipstick depends not only on fashion. It is important to take into account the shade of the skin, eyes and hair, the overall range of makeup and clothing. Lipstick can become the brightest spot in the ensemble, or modestly move to the background – it all depends on the chosen image.
Instructions
The easiest way to choose a lipstick, focusing on your color. Girls like "Spring" with blond hair and golden skin will approach the warm pastel scale. Bright, dark brunettes of contrasting appearance, relating to the winter type, it is worth paying attention to the wine and violet range. Red-haired
girl
– "Autumn" is addressed lipstick shades of ocher or chocolate, and a cool "Leto" with light brown hair and transparent skin – pink and purple hues.
There is another option for selection. It is ideal for finding neutral shades, almost coinciding with the natural color of the lips. Wash off your face makeup. Alternately, apply on the lipstick lips the color of a tea rose, pinkish-beige, cranberry or chocolate. The color with which your face looks the most advantageous, and will be yours. For neutral make-up, choose pure shades without the addition of acid pink, rusty or ashy.
Too pale lips need a lipstick of a gentle pastel shade. Try lilac-pink and pink-beige. Excessively bright tones will look foreign and visually make you older. Dark lips should be complemented with lipstick saturated shade: strawberry, scarlet or dark pink. Light translucent tones make the face lifeless.
If you want to look younger, use fresh natural shades in warm colors. Try coral, carrot, light crimson shades, the colors of cocoa and rosewood. Avoid very dark chocolate, purple, burgundy lipsticks, as well as bright hues of cyclamen and fuchsia. Cold pale pink and bluish-purple lipsticks with intense pearl luster look old-fashioned and are not suitable for everyday make-up.
Consider not only the tone in the stick, but also the texture of the lipstick. Dense products with a satin or velvety coating will look darker and denser than translucent lipstick-balms. The most dark shade gives matte lipstick – cherry stick on the lips will look almost black. The product with mother of pearl, on the contrary, looks lighter. Well, the smallest golden shimmer can fundamentally change the shade of the tool.