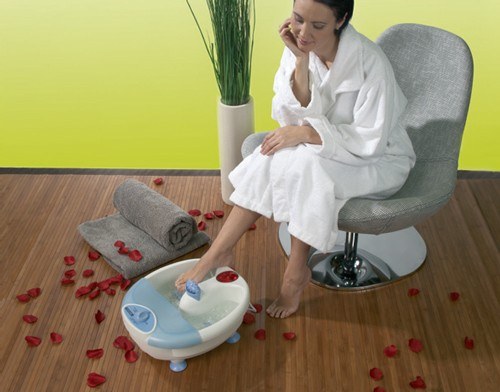 Bath with hydromassage effect – useful device for caring for feetwhich removes swelling, tones up the skin and massages the muscles. A simple device will help to remove fatigue and relax, you just need to take into account all the criteria for choosing.
Instructions
Make sure there is a water heating mode. If this function is provided, then the hydromassage procedure is simplified – you do not have to warm up the water every time you decide to change the temperature for holding contrast baths.
Possibility to use the device without water. If the device saves massage function without water, it increases its functionality – it can be taken with you on trips and travels, used as a massage simulator. In such devices, the treatment of the feet is carried out only by an air jet. The same mode can be used to dry the varnish.
The more modes the hydromassage device has, the more diverse it can be used. The presence of vibromassage function allows you to work out active points, effectively relax the muscles, strengthen the walls of blood vessels and capillaries. Infrared allows you to use bathtub as a thermal activator of tissues – this function is used at beginning signs of cold, in order to quickly warm up, etc. Bubble massage gives pleasure and relieves spasms.
The presence of pedicure regimes (built-in pumice, a device for processing rough skin heels) allows you to use bathtub in the process of skin care feet. If you want to increase the effectiveness of the procedure by adding herbal infusions or sea salt to the water, it is necessary that the device maintains such regimes.
Pay attention to how convenient the bath is in operation. If you plan to perform procedures in the bathroom, you need to make sure that the legs of the tub are kept on a slippery surface. The most stable model with rubberized pads. Quality models have a special device that protects the surrounding surfaces from flying sprays during the procedure. Some models have a remote control – you do not have to bend each time you decide to change the mode. The location of the drain hole is not of fundamental importance – it can be located on the side or on the bottom of the tub, so choose the option that suits you.