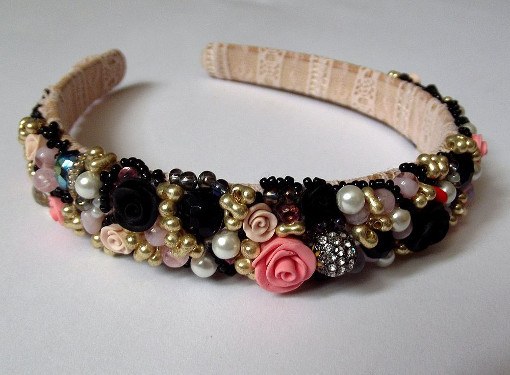 The precursors of hoops or rims for the hair are the ancient tiaras that adorn the hairstyles of the beauties of those times. Today, this accessory is no less popular among women, because with his help you can beautifully decorate your hair or just remove the extra ones.
Instructions
Modern hair hoops can be very different: narrow and wide, executed in a restrained color scheme and in summer bright, with one or two stripes, decorated with all kinds of stones, feathers, rhinestones, bows, etc. The choice of a specific model of such an accessory directly depends on the type of appearance.
If you have the right and beautiful features, you can safely open your forehead with the help of a hoop. For women with long hair, it is best to give preference to a wide hoop, but for short curls, a thin accessory with a bright accent in decoration is ideal – it will make the hairdress more romantic and attractive.
Owners of fine hair should take a closer look at the models of hoops with denticles. If you can not boast of magnificent hair, then this is your option, which will lift the hair a little and add volume to it.
With an oval or elongated form of the face, you can choose for yourself almost any hoop. Wide and large models of hoops are ideal for those who have a wide chin and a square face, but with this accessory the visually pulling round face. Hairstyle with a hoop or bando (tape) – a dressing imitating natural hair, a metal chain, etc., will help to hide the high forehead.
As for the colors and colors of the hoop, it is best to choose beige or black items that you can wear with any clothing. If you are going to a business meeting or an office, then you should choose a hoop of thin or medium width without a flashy and bright finish. The latter option is more suitable for summer vacation, beach or other entertainment. You can supplement your evening dress with a hoop decorated with stones, sequins, rhinestones or beads.
No less important in choosing a hoop is the material of its manufacture, as well as the presence of various ornaments: women of age should purchase more expensive, exquisite models, while young girls will ideally look with hairstyles complemented by simple bright plastic hoops.
Of course, do not forget about the fact that any hoop should be in harmony with other items of your clothes, then the image as a whole will be completed and attractive.