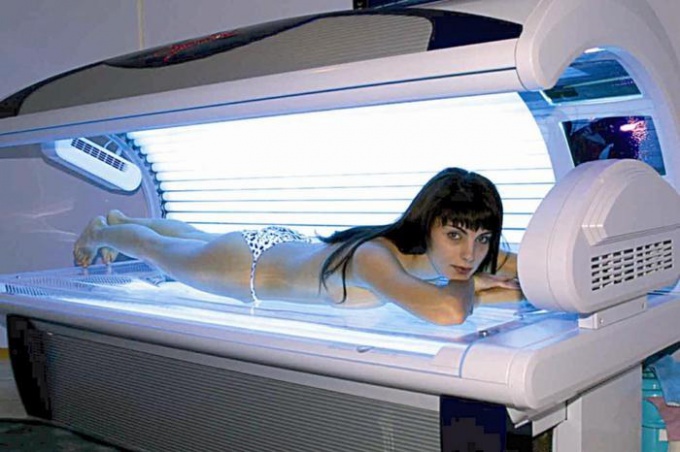 At present, tanned skin has become very popular, it shows fewer shortcomings, you seem slimmer. Not everyone has the opportunity to constantly visit hot countries to get a natural tan, and the use of special napkins and spray has a short-term effect, and the means are not always distributed evenly.
Instructions
Currently, solariums are very common, and they can be found in almost any beauty salon. There are vertical and horizontal. In each of them there are pluses and minuses. In the first case, the tan is more even, and you yourself can take any convenient position, and it's more hygienic, and in the second – you can safely relax and relax during the session.
The price for this procedure is indicated in one minute, and the total time is selected independently. There are rules that should be adhered to in sessions. They differ in skin type: with light it is necessary to start with 4 minutes, gradually increasing the time to 10 minutes, more tanned ones can immediately increase the time, but in any case one procedure should not exceed 15 minutes and pass no more often 3 times a week. All this to you at the first visit should explain the administrator or the person responsible for the solarium.
To choose a good solarium, you should look at the technical documentation, read information about the lamps used, the possible power of the cabin itself. Lamps are obliged to change in a timely manner, if this is not done, then they are not only ineffective, they can still harm their radiation. If you are not provided with the information you requested, do not take chances, but rather choose some other salon.
There are places where they specialize exactly on solariums – so-called tanning studios. Usually they have a higher price, but more often it is better to monitor the timely replacement of parts.
It is worth paying attention to the disinfection of the cabin after use, especially with regard to the horizontal solarium, because with a bad treatment you can get any skin disease. If there is a big queue in the solarium, where people go one after the other and no one processes them, do not take chances.
When you visit the solarium, you should use special creams that you can buy on site or bring with you. It is only necessary to take into account that conventional sunscreens are not suitable, because There is no ultraviolet radiation in the solarium.
It is also worth taking care of disposable means of protecting sensitive areas: the bikini area, chest, eyes. In some salons such kits are issued
is free
, in others – it is necessary to purchase additionally.
Many solariums are equipped with an additional blowing system, which makes the procedure more comfortable – not so hot. There are cabins with built-in music that entertains during the session.
In any case, when choosing a solarium, you should pay attention to the room in which the cabs are located. If
this is what
a cellar in which normal repairs have not been made, then, most likely, they saved on equipment, and this can lead to bad consequences.