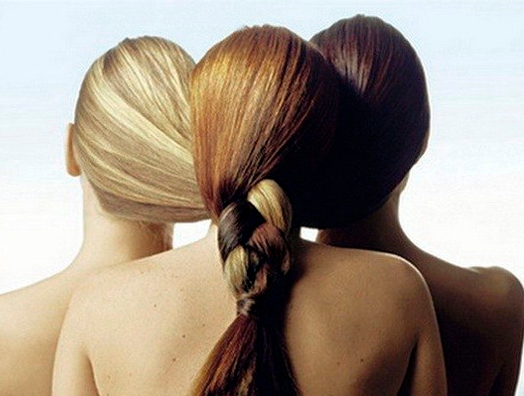 У большинства женщин в различном возрасте появляется желание изменить имидж. У многих смена имиджа подразумевает изменение цвета волос. Однако, когда подходит момент выбора цвета, женщины останавливаются перед вопросом – какой же цвет выбрать? К сожалению, выбор неподходящего по типу внешности оттенка способен изменить образ в худшую сторону.
In order to avoid unpleasant consequences of hair dyeing, experts suggest choosing the optimal color and shade of hair, depending on the type of appearance. As you know, all people are divided into holders of "warm" and "cold" types of appearance.
People with a "warm" appearance, as a rule, have brown or green eyes and a swarthy skin with a golden or peach tinge. The brown range of natural hair predominates – the whole range is from dark-brown to chestnut-colored. Such "warm" women as an alternative hair color is perfect for chestnut, golden or red shades. But ashy and light blond flowers are best avoided – they will noticeably grow up or even age.
"Warm" appearance can be divided into two types: autumn and spring. Owners of the autumn type have a peach-colored skin. Suitable for them hair colors are wheat-golden and rich honey tones. A spring type is characterized by brown or green eyes and a fairly light, almost white skin. Such people will look good red or brown hair.
As for the "cold" type of appearance, its characteristic features are light blue, blue, gray or black eyes and pinkish or very light skin. Such people are perfectly suitable for black, light-brown and ashy hair colors, while red shades will be inappropriate.
Just like the "warm", "cold" appearance is divided into two types: winter and summer. Owners of the latter usually have pinkish skin and light eyes. They are ideal ashen color of hair. But the winter type with light or dark eyes and white skin is better to stop on dark or platinum shades.
Для тех, кто желает выделиться из толпы посредством экзотического цвета волос, например, красного, морковного или баклажанного, важно иметь в виду, что такие оттенки волос способны прибавить еще несколько лет к образу. А вот пепельный цвет требует от обладательницы просто идеальной кожи.