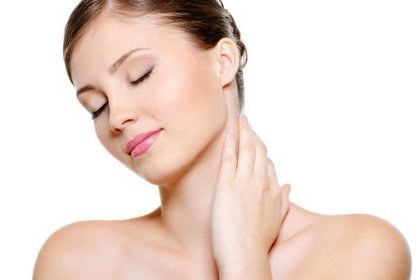 The skin on the neck is very tender, if it is not looked after properly from youth, then by the age of thirty-five it can become flabby and wrinkled. But women often forget or do not consider it necessary to take care of their neck. But she needs the same care as her face.
It is the neck and arms that usually give the age of a woman. Transverse wrinkles and folds,
double chin
can appear and because of a wrong way of life. For example, the habit of reading for a long time lying down, as well as sleeping on a pillow that is too high. Decreased tone and flabbiness of the skin, a mesh of wrinkles on the decollete zone, hyperpigmentation often appear from excessive tanning.
To keep the neck young as long as possible, you do not need to apply too much effort. You just need to abandon the habits that harm her appearance and properly take care of her. Make it a rule to cleanse your neck every time you clean your face. The sebaceous glands on the skin of the neck are small, so it is never greasy, but only normal or dry. Accordingly, and the means to clean it should be used soft: cosmetic milk, handmade soap for dry or sensitive skin.
You can wipe your neck with infusions of herbs (mint, sage, chamomile, lime-colored) or make special lotions. Effective formulations with egg yolk. It is good to make such a complex lotion: one raw yolk, half a cup of cream or sour cream, juice from one lemon or orange and a little (0,5-1 tbsp.) Vodka for conservation. This home lotion should be stored in the refrigerator and wipe their neck daily. This will give the skin at the same time cleansing and nourishment.
Necessarily on the neck you need to apply moisturizing or nourishing cream. It is superimposed on clean skin with light movements from the bottom up. If the skin of the neck begins to wither, you need to connect more intensive care products. These can be compresses and masks. They have to do first in a day or two, and then weekly to maintain the result. Effective contrast compresses alternately hot and cold from ordinary or salted water.
Hot herbal compresses are also useful. For such a compress it will be necessary to weld 1 art. l. herbal collection (chamomile, linden flowers, hop cones, sage in equal quantities) with a glass of boiling water, add 1 tsp. tincture of ginseng or eleutherococcus. Insist 30 min. Wet a napkin or gauze in a hot tincture, squeeze a little and put on the neck. When it cools down, repeat it several times. In the end, rinse your neck with cold water and apply cream.
It's good to make masks from yeast dough. It is rolled out by a strip along the width of the neck and holds 15-20 min. Then the skin can be wiped with lemon juice diluted with water. Oil masks will also be effective. Preheated vegetable oil should be soaked gauze, wrap the neck, put cellophane on top and cover with a towel. Hold 20 min. Remove residual oil with a damp warm cloth. You can use for masks grated cucumber or warm mashed potatoes. These masks are made on the same principle, but must be washed off with water.