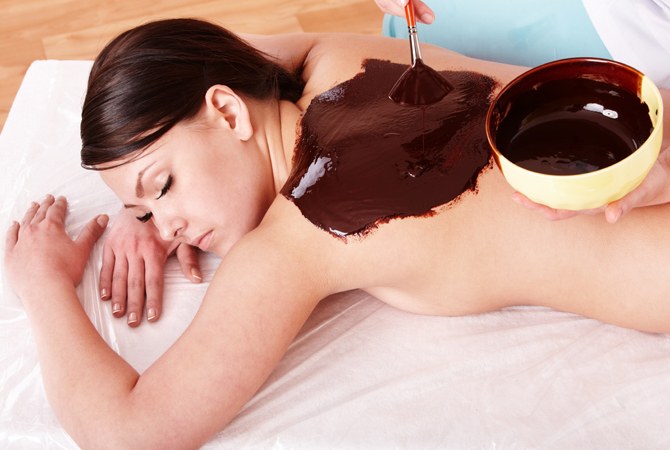 There are few people who do not like chocolate. It is appreciated for its pleasant taste, its ability to cheer up and improve its efficiency.
Until recently, it was believed that this sweet product should be limited to those who care about health and figure. But recent research has shown that bitter chocolate not only does not damage health, but it also helps to preserve the purity of blood vessels, and in moderate amounts it is allowed even in a diet for weight loss.
This kind of chocolate is now actively used and
in cosmetology
. The basis of quality bitter chocolate is cocoa beans and cocoa butter, which have a nourishing, anti-cellulite, lifting action. This product is used in salons as part of wraps, masks and massage aids. Such services are not cheap, but not everyone knows that such procedures can be done at home. The main condition is the choice of chocolate with a natural composition, without additives and with the maximum content of cocoa products.
Chocolate anti-cellulite wraps – the procedure is very pleasant and effective. AT domestic conditions It can be done in the following two ways. For the first, more complex, you need two tiles of dark chocolate, two tablespoons of cosmetic pink clay and a little dried ground ginger. Beforehand, take a shower and make peeling problem areas with natural ground coffee, mixed with any shower gel. Chocolate tiles melt in a bowl on a water bath, add clay and ginger, mix and apply a warm mass to the problem areas. To wind over the food film, it is advisable to lie under the blanket for 20-30 min. Then rinse the composition under the shower with warm water, and then lubricate the skin with cream.
The second method is easier, you just need to mix the melted chocolate and the finished anti-cellulite oil. Wrapping is done on the same principle. If you have an assistant, you can also make a chocolate massage. It will take one tile of bitter chocolate and some milk. Melted chocolate powder mixed with milk and applied to the body with massage movements, soft and not too strong. This massage will make the skin velvety and gentle, will have a general soothing and relaxing effect.
You can pamper and hands with chocolate masks and nutritious scrubs. For a complex mask, you need to melt several pieces of chocolate, add a spoonful of sour cream, milk, vegetable oil, as well as a little honey and a few drops of essential oils of your choice. Such a mass should be densely coated with hands, put on cellophane gloves and stand for half an hour, then wash off. The scrub is made from melted chocolate slices, a spoonful of honey and shallow salt. It is necessary to massage this mixture of skin for several minutes and rinse with water. For intensive care for dry hands, you can first treat your hands with this scrub, and then apply a mask.
Royal care can be provided for your feet by making a bath of two liters of warm milk and melted chocolate bars. It is better to make such a bath in the evening, and do not rinse your feet with water, and wipe with a paper towel, so that the nutritional effect of the composition lasts all night.