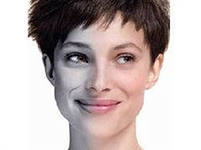 The problem of skin pigmentation is familiar to many women, often due to age-related changes. For the prevention of such problems as pigmentation, it is essential in daily care to use the means with SPF factor not lower than 30.
К тому же решением проблемы может стать использование отбеливающих масок. Самой доступной простой в приготовлении маской является маска, приготовленная из 5 капель лимонного сока и 50 г меда. Данную маску следует наносить на очищенную кожу на 10-15 минут, после смыть маску теплой водой, промокнуть бумажным полотенцем и нанести на кожу питательный крем. Данная маска способна осветлить кожу и выровнять ее тон.
The problem of dull skin is able to solve masks and gentle peels with ANA acids, in domestic conditions you can make a simple and effective mask of kiwi. To half of the kiwi crushed fork, you need to add oat flour and a couple drops of your favorite cosmetic oil, grape seed oil, avocado oil or peach oil. This mask should be applied to the cleansed skin with massaging movements and leave for 10 minutes, after washing off the mask with cool water. This mask cleans the skin and gives a glow to the skin of the face.