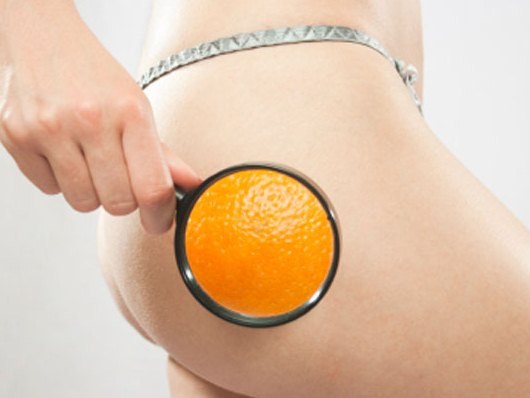 With cellulite, the structure of fatty tissue, mainly on the hips, abdomen and buttocks, is broken in the body, which is manifested on the skin in the form of ugly tubercles, also called the "orange peel". Unfortunately, cellulite can develop even in young girls, since one of its causes are hereditary hormonal disorders. But most often it develops if women move little, eat irrationally and are much nervous.
Instructions
The main thing you should remember about, if you do not want to have an "orange peel" on your body, is proper nutrition. Try to avoid fried foods and fatty foods, as well as smoked products, pickles, preserves, semi-finished products, baked pastries and cream cakes. First, these things are very caloric. Secondly, because of the abundance of all kinds of artificial additives – dyes, thickeners, flavors, flavor enhancers, etc., they are simply harmful and contribute to the deposition of fats in tissues.
Useful products that are really needed by the body a lot, there is something to choose from. These are vegetables, fruits, greens, cereals, cereal bread, low-fat meat, fish, milk, kefir, etc.
Minimize the use of strong alcohol, coffee, soda. Prefer clean water, dry wine (in small quantities), freshly squeezed juices, herbal teas. Especially useful for prevention
cellulite
apple, carrot, beetroot, orange, cucumber, cabbage juices.
Forget about smoking. It is known to adversely affect blood circulation, and therefore contributes to the development of cellulite.
Do not wear shoes with high heels or too tight clothes. Try not to stand in the same position for a long time. If you are at work a lot of standing, try to change the position of the legs more often and do at least the simplest exercises to improve the circulation of blood and lymph.
Pay special attention to daily physical activity. Charging in the mornings, moderate running, swimming or aerobics, cycling will help you to restrain the development cellulite. By the way, exercises in the gym, where only a few muscle groups are pumped up, are not recommended, because they can contribute to the emergence of cellulite.
To maintain skin tone it is useful to visit beauty salons, where they can offer complex methods for caring for the body, incl. massages, seaweed wraps or curative muds, balneological baths, etc. But if there is a desire, much can be done at home. For example, pour cold water or rub the problem areas, apply anti-cellulite cream or do yourself a massage.
Avoid stress and try to calmly treat unpleasant events or news. Disorders of the nervous system also contribute to the appearance of cellulite deposits. If the hassle can not be avoided, then try to relieve tension and relax more quickly. These are physical exercises, auto-training, yoga and other methods.
Development cellulite contribute to some hormonal contraceptives. Before using them, consult with specialists.
Negative effects on the skin and subcutaneous layer of ultraviolet radiation. Therefore, if there is such an opportunity, be less in direct sunlight, especially if you have fair skin.