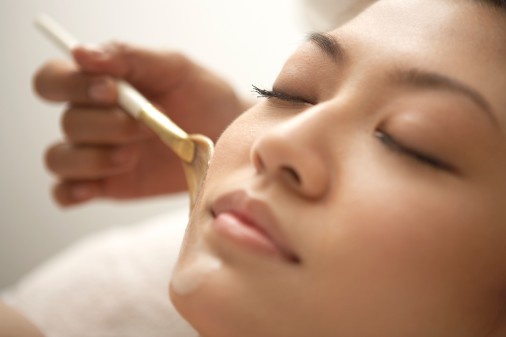 Use paraffin in the form of masks, mask-bandages, paraffin-oil masks. Therapeutic procedures with paraffin are carried out for the face, neck and body skin.
– Paraffin is used for acne, as well as with a double chin, fading skin, dry skin of hands and feet.
– Paraffin promotes resorption of infiltrates and scarring, skin rejuvenation.
– Paraffin is categorically forbidden to use for acute inflammatory processes, burns, with pustular lesions of the face, eczema, hypertrichosis, neoplasms.
Paraffin has an excellent effect, which is created by the action of heat and mechanical action. When applied to the skin, the molten paraffin hardens and forms a film, the temperature of which rapidly decreases to body temperature. Between the skin and the film, a thin gas layer forms, protecting the skin from the effects of high paraffin temperature. When the paraffin hardens, heat is released, as a result of which the temperature under the paraffin layer remains constant throughout the procedure.
The effect of occlusion (squeezing) leads to increased activity of sweat and sebaceous glands. The greasy secret liquefies and easily comes to the surface, thus eliminating sebaceous plugs. The skin is released from toxic products of metabolism, tissue respiration improves. This determines the anti-inflammatory and stimulating effect of paraffin.
Mask made of paraffin for face
For masks apply purified white medical paraffin. Melted paraffin in a water bath, heating it to a temperature of 65-80 degrees. Before using the mask, the oily skin should be wiped with a cotton swab moistened with a mixture of alcohol and ether, and grease the dry skin with vegetable oil. The heated paraffin is applied to the face in the 2 layer. On top of the mask, apply a film, lay a layer of cotton wool and bandage the face. After 30 minutes, remove the mask with a spatula, after rubbing with cream.