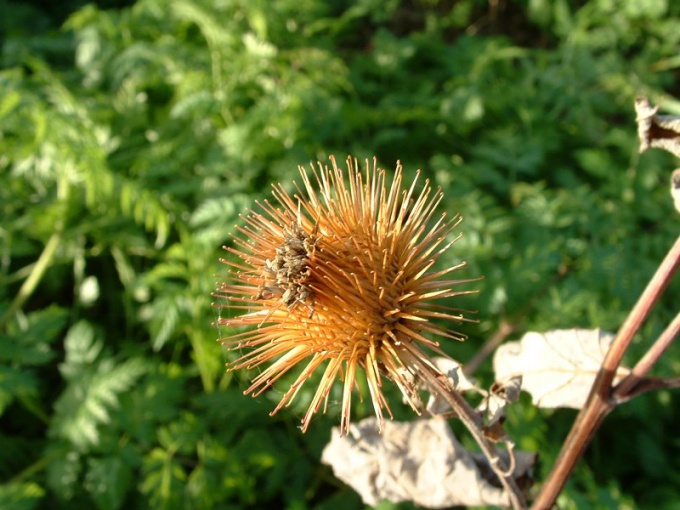 An active component of burdock oil is extract from the roots of burdock. It stimulates hair follicles, strengthens the roots, gives shine to the length. Burdock oil is used alone or in combination with other substances.
You will need
– comb;
– food film;
– shawl or hat;
– essential oils;
– yolk;
– Honey.
Instructions
Preheat the oil not in a water bath or in a microwave. Divide the hair with a comb on the straight part. Moisten the pads of the fingers of one hand with warm oil and massage the roots with massaging movements. Make a new part, sideways to 1-1,5 cm, and repeat the procedure. In order to apply oil to the nape of the neck, tilt the head and flip the hair over your face. Fingers of one hand create vertical punches, the other hand rub the warmed mixture into them.
Pour a small amount of oil into the palm and slide along the entire length of the hair in a downward direction. Make a bundle on the top, wrap the head with a food film, tie a handkerchief on top or put on a hat. The film is necessary to protect clothing from leaking oil. A cap or a handkerchief keeps heat, as a result of which the effectiveness of the procedure is enhanced. After 1-3 hours, wash your hair. If the hair is not washed the first time, apply the entire length of the 1-2 yolk (depending on the length), soak them for 10-15 minutes, and then rinse with shampoo with the rest of the burdock oil.
Add to the burdock oil esters: rosemary or tea tree –
with dandruff
, orange – to reduce the fat content of roots, cinnamon or bay – to stimulate growth, ginger or citronella – for prevention
deposition
. The ratio of esters and burdock oil should be 10-15 drops per 3 tablespoons.
Make a strengthening mask. Mix the egg yolk, 2 st.l. burdock oil and 1 st.l. liquid honey to a homogeneous state. Apply the mixture to the roots in the manner described above. After 1-2 hours, wash the hair with shampoo. For a mask, suited and candied honey, pre-melted in a water bath.