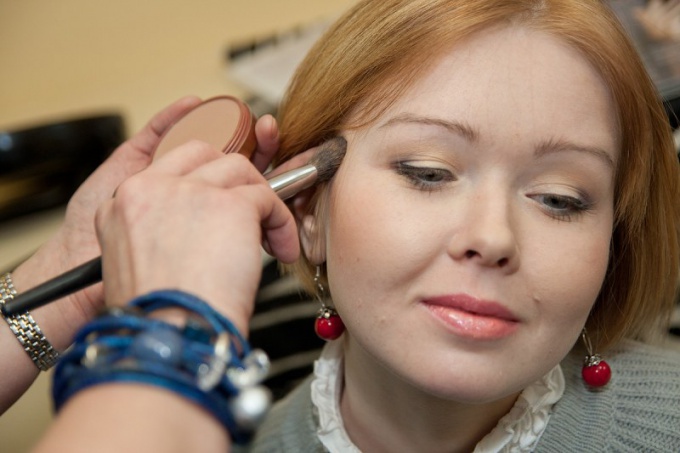 You can correct the shape of the face with the help of some cosmetic products. It is very important to apply tonal remedies, rouge, bronzers correctly. Otherwise, it can be achieved that all the shortcomings of appearance will only be underlined.
How to adjust the shape of the face with tonal tools
Women with irregular face shape need to master some techniques that will help to correct the lack of appearance with the help of makeup. In this case, it is important to correctly apply to the skin tonal remedies.
Adjusting the wrong face shape is most easily done with powder or blush. You can also use foundation and cream powder, but they are much harder to apply so that transitions between cosmetic products of different shades are not noticeable.
To simulate a face, a powder of a lighter and darker color will be needed. Light powder should be allocated those areas that need to be visually increased, and the dark to emphasize what needs to be visually reduced. You can also apply to the whole face a tonal, which in its tone completely coincides with the skin color, and the product of a darker tone highlight some areas.
For example, when you make up an elongated face, you need to apply your favorite tonal remedy to the whole face, and with a darker powder emphasize the chin, forehead, the line of hair growth. No sharp transitions should be seen.
When you make up the face of a round shape, you need to emphasize the cheekbones with a powder of dark shade. If the face has a triangular shape, you should apply powder only on the forehead and on the upper part of the cheekbones.
Instead of dark powder, you can use a blush of natural shades or bronzers. These cosmetic products should also be applied to the cheekbones, nose, chin. They also can emphasize the hair growth line.
How to adjust the shape of the face with the help of haylaytera
Some areas on the face can be brightened with the help of a highlighter. This cosmetic product contains tiny pearlescent particles, allowing to give the skin a delicate radiance.
If a woman, for example, has a high forehead, she needs to apply a highlighter to the upper part of her cheekbones. This technique will help to level out the proportions of the face and distract the attention of others from its heavy upper part. A large chin can be visually hidden using exactly the same method.
To give the person the volume helps to apply the hyllater on the upper part of the cheekbones, the central part of the forehead, the chin, the top of the nose and the area above the lip. In order to correct the shortcomings of appearance, it is desirable to use both a powder of dark shade, and a highlighter. Simultaneous application of these cosmetic products to the right areas helps to perform really effective make-up.