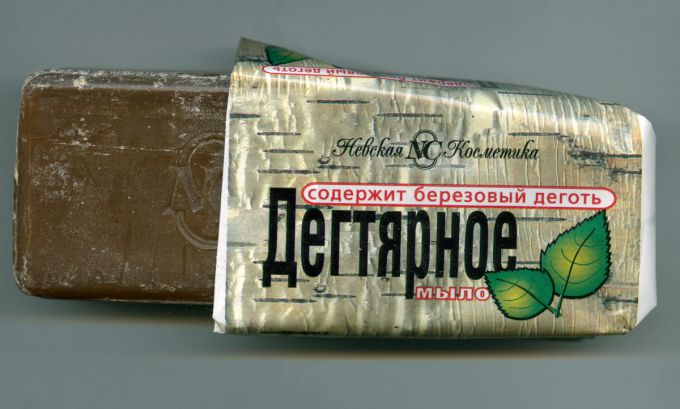 Most people undeservedly deprive with their attention tar tar soap, but, as it turns out, in vain. Recently, it has found wide application in medicine and cosmetology.
Tar soap is a common soap, which includes 10% of birch tar. Tar has unique healing and antibacterial properties. In tar soap there are no fragrances and chemical additives, so it is indispensable for people with sensitive skin.
People with problem skin spend huge sums of money on cosmetic products: lotions, tonics, creams, ointments, etc. However, tar soap will easily replace them all, and it does not need special expenses. It is enough to wash with warm water once a day with this soap. Very effective tar soap fights with blackheads and black spots. Its regular use removes greasy shine, narrows the pores and prevents new eruptions.
With skin diseases such as psoriasis, dermititis, eczema tar soap is also indispensable – it perfectly dries and eliminates itching.
To prevent and treat diseases of the scalp, you can also use tar soap (sometimes tar tar shampoo). It is able to cope with dandruff, dry and damp seborrhea, psoriasis rashes. After its application, the hair remains clean longer, it is better to comb. However, do not leave soap on your hair for long, it can dry the skin.
Most girls use tar soap for intimate hygiene, it prevents the development of various infections. To treat thrush, this soap is used in conjunction with drug treatment.
Tar soap effectively fights with a fungus of skin and nails. In this case, compresses are made from it: foam from soap (a heavily lathered cloth) is applied to a sore spot and left for 10-15 minutes, then rinsed off with clean warm water.
With increased sweating, it is recommended to use this soap for bathing.
Contraindication to the use of tar soap is very dry skin. Its only drawback is a sharp unpleasant odor.