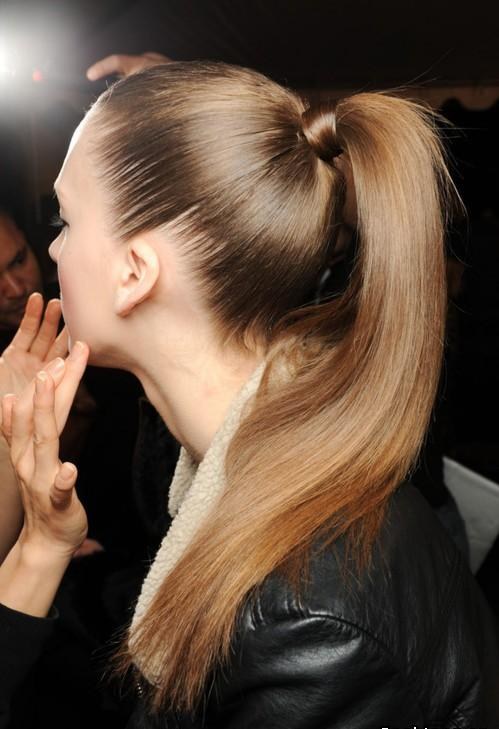 To create everyday, but elegant hairstyles on hair of different lengths, two main techniques are used: fixation in the tail and twisting in a circle or vertical. After several trainings the whole process will take no more than 3-5 minutes.
Instructions
Separate one strand at the bottom of the head from behind. Collect the remaining hair in the tail, fix with a thin and strong elastic band. Raise the unused curl, treat with a small amount of wax. Wrap the strand around the gum several times, pull the tip under the tail and secure it with invisibility. In this way, you can collect hair on the back of the neck, on the crown or on the side, to decorate a hairstyle like "Malvina".
Соберите волосы в хвост на уровне середины ушей. Сложите шнурок или тонкую атласную ленту пополам. Введите образовавшуюся петлю снизу вверх в пространство между поверхностью головы и резинкой так, чтобы по обе стороны от ленты было примерно одинаковое количество волос. Поместите хвост в изгиб, потяните вниз за кончики. Волосы по бокам от резинки образуют своеобразные ролики. После этого можно заплести косу или оставить как есть.
Comb your hair, raise it with your hand at the back of your neck. Screw them in the direction down, so that a vertical roller is formed in the middle of the head. Holding the ends with one hand, the other fix the hair with the studs. If the hair is naughty, first toss them to one side, vertically, slash them with a few invisible fingers in the center of the head. Tighten the roller. Pins fasten under the invisible. To create a volume on the crown, you can scratch your hair before creating a hairstyle. Finish the ends.
Fix the hair in the tail with a firm rubber band. Divide them into two approximately equal in volume strands, with longitudinal movements apply to each small amount of wax. Twist the curls to form a tourniquet. Holding the tips with one hand, form a bundle, wrapping the hair around the elastic band several times. Pin around the perimeter of the studs, if they do not stick well, use the little trick described in step 3.