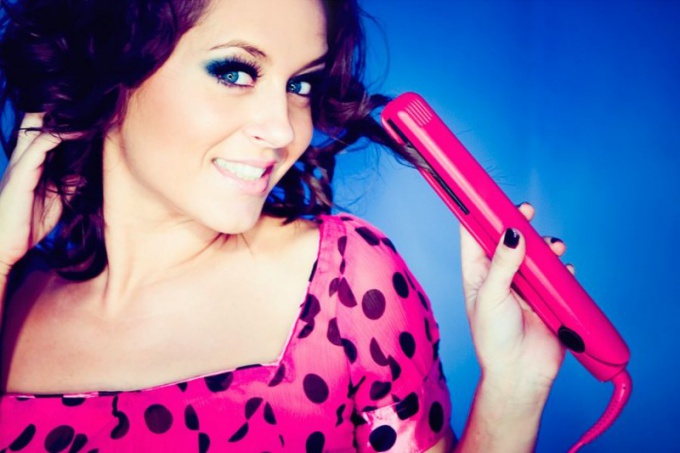 When hair disobedient, constantly get out of hairdress, they are shaken, it is possible to correct a situation by means of an iron for straightening of hair. At the same time, you need to take a very careful look at the choice of the device, so as not to harm yourself.
Assortment of ironing
In order to reduce the possible aggressive impact, you must choose the right ironing. The most important thing is the material from which its plates are made. The safety of hair straightening depends on it directly.
Plates from metal strongly damage hair, therefore to use such device it is possible not more often than four times a month, it is excluded to use it every day.
Ceramic plates are more gentle to the hair. Irons with such a coating are considered good for home use and belong to the average price category.
Самыми качественными, практически не наносящими вреда здоровью волос, являются пластины с турмалиновым и ионно-керамическим покрытием. Такие приборы считаются профессиональными и поэтому они более дорогостоящие.
It is very convenient if the iron has a temperature regulator, because straight hair of different lengths follows at different temperature conditions. A bang – at sparing temperature, other hair – higher.
Features of hair straightening ironing
More often than twice a week thermal hair straightening is dangerous. You can damage the hair structure very much, and they will become faded and begin to thin out.
Очень полезно использовать специальные термозащитные средства, призванные защищать волосы, особенно если они сухие и ломкие.
In order to create a three-dimensional hairstyle, you need to straighten only the outer strands and ends of the hair. In this case, the volume is preserved and smoothness is given to the hair.
Before straightening, you need to wash your hair, since dirt and the remnants of various styling products will lead to hardening of the hair, which is very harmful to their health. If the opportunity to wash the head is absent, then the temperature regime should be chosen the most minimal.
It is not recommended to straighten damp hair, while they are damaged and instead of smooth and silky, you get hair that is lifeless and thinned. When using thermal protection means, you should wait for them to dry completely or dry with a hairdryer.
Straighten the hair should be, dividing them into small strands in width, equal to the width of the ironing. The smaller the strand, the better the effect.
Do not keep the iron for a long time in one place, it's very risky to burn your hair. A few smooth movements from top to bottom are enough. After that, you can use the varnish to fix the result.
If the hair is still damaged, you need to stop using the iron for a while and perform the therapy with the help of various hair masks.