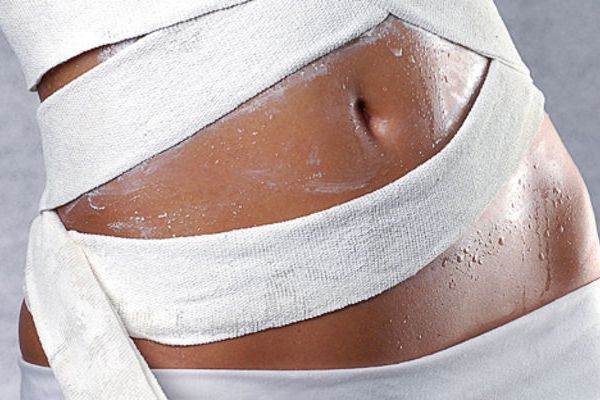 The hot wrap differs from the cold one in that the applied compositions are heated to a temperature slightly higher than the body temperature, 37-38 degrees. A higher temperature will be stressful for the body. The thermal effect can enhance the substances added to the mask for wrapping, for example, cinnamon, pepper, ginger, special anti-cellulite body gels. Hot wraps are performed in order to reduce stretch marks, body volume, increase skin elasticity. The procedure helps to get rid of cellulite and eliminate toxins.
Contraindications to hot wrapping – diseases of veins, cardiovascular system, oncological diseases, pregnancy and various injuries and skin diseases.
Before the procedure, it is necessary to thoroughly cleanse the skin with a scrub to open the pores to prepare the skin for taking active substances.
Горячее масляное обертывание
To prepare the mixture, you need olive or coconut oil in an amount of 50 ml, as well as any essential oil if desired (4-5 drops). The mixture of oils needs to be heated on a steam bath in a closed container to the desired temperature (about 40 degrees).
После нанесения маски на тело, сверху наматывается пищевая пленка, а для сохранения тепла сверху надевается теплая одежда или одеяло. Время воздействия маски – от 15 до 30 минут, после чего состав нужно смыть теплой водой и нанести крем для тела. Хороший результат можно получить, если воспользоваться антицеллюлитным термогелем.
The course includes 15 procedures, with the first 4-5 needed every day, the following – with an interval of 2-3 days. To consolidate the effect, the wrap is then done once a week.