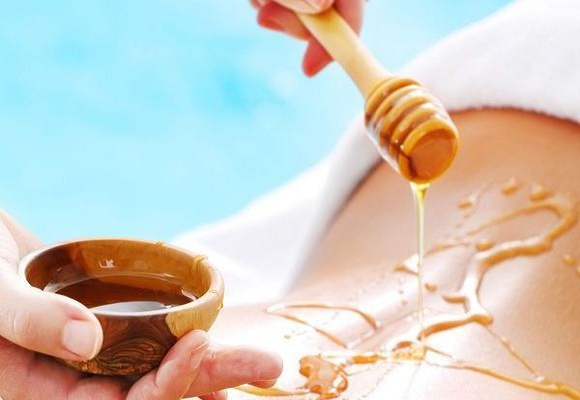 Honey is a source of health, beauty, good mood. Since ancient times, honey has been used as a component in cosmetic procedures. Its relevance has not diminished for centuries: women from all over the world prefer to use honey more often than all other natural components.
Honey wrap – an effective tool in the fight against excess fat
Honey helps to tighten and renew the skin, removes old and dead cells, gives healthy shine and softness. In addition, honey helps to get rid of cellulite, which in the end can be seen on scales – up to 3 kilogram can be lost only by honey wraps, but this is only if cellulite and excess weight really do exist. So, how is honey best used for wrapping?
Honey wrap in Home conditions
The procedure of wrapping can be obtained in beauty salons, then you do not have to find the means and methods yourself, it is only necessary to pay for the service. But the honey wrap will cost much less if you spend it in the home conditions. For this you need to stock up:
body scrub;
anti-cellulite cream;
liquid honey;
mustard;
oil, better olive;
food film (enough 1 roll).
First you need to prepare the skin: it must be clean, dry. Scrub is needed to exfoliate dead cells that are on the surface of the skin. Now we prepare the mask for the body: this requires about 400 gram of honey (this is 10-15 spoons), 50-80 gram of mustard powder and 1 st. spoon of oil. All this must be mixed and obtained a homogeneous mass.
This mixture should be applied to the skin and wrapped in several layers. During honey wrapping it is better not to move, but to lie or sit, wrapped around the problem areas with a blanket or a blanket. So mustard will act faster, you will feel heat and burning. It is necessary to endure these sensations. But if the skin is literally "Burns", It is best to wash off the mask. This may mean increased sensitivity to components or even allergies. Therefore, before wrapping, check yourself for the tolerance of oil, mustard and honey.
Honey wrap: recipes
Hold the honey wrap around about 40 minutes. Instead of mustard, you can use red powder. But this mixture must be prepared very carefully, it is best to buy ready-made mass for wraps, in order to avoid burns.
In order to get rid of mildly expressed cellulite, a wrapping based on another recipe is suitable: mix honey and a couple drops of citrus essential oils. The rest of the procedure is the same as with honey-mustard wrapping.