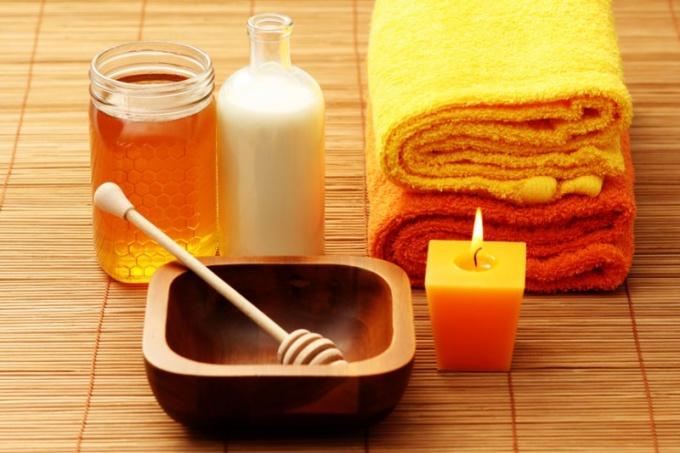 When combating the "orange peel" and extra centimeters are used all sorts of salon and home procedures, among which the honey-mustard wrap is especially popular. Mustard-honey mixture has a tremendous effect on the skin. So, honey deeply cleanses the skin, removes dead cells, improves skin tone and elasticity, significantly improves its color, helps remove excess liquid from the body, cleans pores from toxins, slags and other contaminants. In turn, mustard enhances metabolic processes, dilates blood vessels and activates blood circulation, accelerates the process of splitting of subcutaneous fat, etc.
Recipes of honey-mustard anti-cellulite mixtures
The recipe for an effective anti-cellulite mixture is as follows:
– 2-3 st.l. mustard powder;
– a small amount of water;
– 3-4 st.l. honey.
Dry mustard is poured with warm water (a paste-like mass should be obtained) and left for 20-23 minutes. Next, the mustard mass is enriched with honey and the components are thoroughly mixed.
In addition, the mustard-honey mixture can be prepared according to another recipe:
– 2 st.l. mustard powder;
– 0,5 tsp salts;
– 2 tsp Sahara;
– 0,5 tsp apple or wine vinegar;
– water;
– Honey.
Mustard powder is mixed with vinegar, salt, sugar and a small amount of warm water (the ready mix in a consistency should resemble thick sour cream) and leave for 22-24 hours at room temperature. Next, the mustard mass is enriched with honey (1 tbsp mixture is taken 1 tbsp honey). Anti-cellulite is ready to use.
It is also possible to prepare an anti-cellulite mixture of the following components:
– 2 st.l. finished mustard;
– 1 st.l. olive oil;
– 2 st.l. honey.
Mustard is mixed with honey and butter, after which the mixture is aged for 12-15 minutes: the anti-cellulite preparation is ready. This mustard-honey mixture can be used even with sensitive skin (vegetable oil softens its effect).
Features honey-mustard wraps
Before doing this anti-cellulite procedure, you need to warm up the body and cleanse the skin. To do this, take a warm bath or shower, then apply to the body scrub (you can use purchased or self-cooked at home conditions cleaning agent).
A honey-mustard mixture is applied to the prepared body (movements of the lungs are massaging). After that, the problem areas of the body are wrapped with a food film and covered with a warm blanket. Keep the honey-mustard mask 40-50 minutes, then take a warm shower and apply anti-cellulite cream to the skin.
Like any cosmetic procedure, mustard-honey wraps have contraindications. You can not resort to this procedure for cardiovascular diseases, thyroid problems, gynecological diseases, allergies to honey, during pregnancy and lactation.