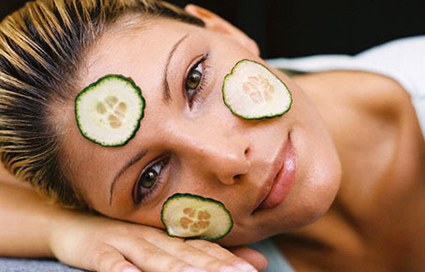 The skin of the face needs to be moistened not only in winter, when the frost in the street and dry air in the rooms overdry it.
In summer, the skin also loses moisture from the sun, but it does not manifest so quickly. In order not to get dehydrated skin by the autumn, you have to take care of it, while warm days stand. You can use ready-made moisturizing cosmetic masks, but you can make them yourself from natural products.
Home moisturizing masks for the face of their own preparation are prepared immediately before use, the portion is at the same time done, since natural mixtures can not be stored. For a better effect, the mask is imposed by the course from 10 to 20 procedures, the optimal frequency of their application two or three times a week.
Dry skin especially needs moisturizing. But the masks for it must also be nutritious at the same time. An effective mask is obtained from powdered oat flakes, the same amount of mashed strawberries, crushed wheat sprouts (or wheat germ oil) and honey. It is better to mix the ingredients in the paste with a blender. Keep this mixture on your face for half an hour, then remove the residue with a wet sponge, rinse your face with water.
With oat flakes, you can do other variants of masks. For example, boil them in milk to make porridge. Condemn her to a slightly warm state, add honey. A delicious mask is ready. Quickly you can make a mask from a banana. Mash half of this fruit, add sour cream or cream, spread it on your face. Well moisturizes dry skin and kelp. With these algae, previously soaked in warm water, you can mix yolk, any oil or glycerin.
For normal and combination skin, masks made of fresh fruits and vegetables are good. They can be done even daily. You can use the gifts of nature in pure form or mix with other components. For example, for a moisturizing mask, carrots or apples are very finely rubbed, mixed with starch. You can drop more cream. Or this option, when the flesh of the apricot or peach is rubbed with cottage cheese or sour cream. The mask is ready.
Fatty skin also needs to be moistened. Only oils and fats in masks are no longer used. You can use fruits (especially sour), any vegetables and add to them low-fat kefir or whipped protein. A good effect is given by a mask from mashed plum pulp and egg whites. The plum should be very ripe.
Another good recipe for moisturizing oily skin. You need to take half a banana, a teaspoon of kefir and honey, a small green tea (pour it out from one tea bag). Rinse and apply on face. All these masks are kept on the skin for 15-20 minutes, washed off with warm water, and finally the face is rinsed with cool water.