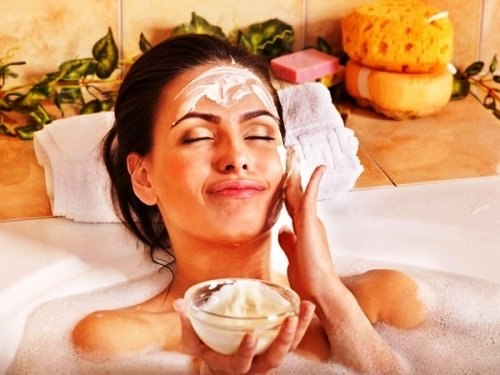 The skin of the face will be healthy and young, if the body with food gets enough amino acids and vitamins, it also needs regular care – moisturizing, purifying. For this, you do not need to go to beauty salons, you can do face masks at home.
Cleansing Mask
Young ladies suffering from acne should make face masks from the sea-buckthorn acne – fresh or frozen berries should be crushed and applied to the face, chest. Allow to dry, and then rinse with warm water.
An excellent cleanser is a mask of oats, you can do at any age. Pour the oatmeal water and this gruel to wipe the face. When the mask is dry and there is a feeling that the mass is moving freely – wash it. Do this every day at night for 1 months and the skin will be smooth, smooth and radiant.
It cleanses and moisturizes the skin with sour milk. Moisten a tampon in any sour-milk product and wipe the skin of the face. The subsequent tampon moisten more abundantly, repeat several times, the last tampon carefully wring out and wipe your face dry. After that, apply a nourishing cream on your face.
Moisturizing Masks
Moisturizes the skin, makes it a matte curd mask. To make it, you need fresh curd – 2 teaspoons and 1 spoon of honey. Mix the foods and apply the mask for 15 minutes, then rinse.
A wonderful tool for moisturizing – a mask of oatmeal. Cook 2 tablespoons of oatmeal in 1 a glass of milk, cool and add to the porridge 1 a teaspoon of honey. Apply a warm face mask and hold 20 minutes.
Take advantage of these simple recipes and you will not have to spend on expensive spa procedures, and the skin will thank with elasticity and healthy blush.