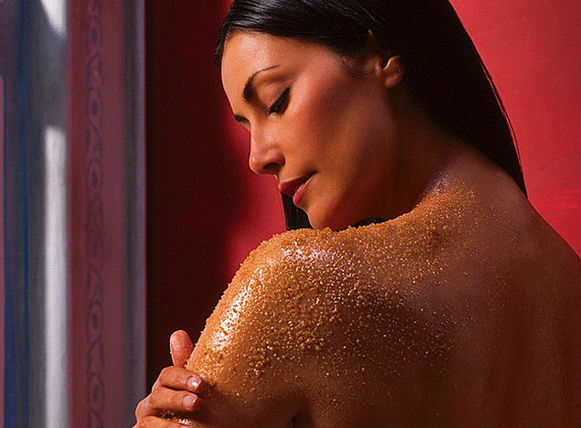 Scrub for the body exfoliates dead cells, promotes skin renewal, and also leveles its surface. You can prepare it yourself at home. Below are the recipes for preparing scrubs for dry skin of the body.
Body Scrub with Banana, Sugar and Vanilla Extract
This scrub exfoliates the skin and makes it smooth and glowing. Fry in a bowl 1 ripe banana, add ? teaspoon of liquid vanilla extract, 3 teaspoons of granulated sugar. Mix these ingredients and then apply to the skin of the body. Hold for 10 minutes and rinse. Apply scrub at least 3 times a week.
Scrub for body with honey and sea salt
Honey moisturizes the skin, while the sea salt exfoliates it. To prepare the scrub, mix honey and sea salt in the proportion of 2: 1. Carefully rub the mixture into the skin and leave for 10 minutes. Then rinse with warm water.
Body scrub with avocado, almonds and oatmeal
This scrub makes the skin smooth and moisturized, and also nourishes it. Prepare a mixture of puree 1 medium avocado, 1 / 3 glass of chopped almonds and 1 glass of oatmeal. Treat the body with this scrub. Hold 10 minutes and rinse with water.
Scrub for body with sugar, cloves and sesame oil
Sugar exfoliates the skin, the carnation makes it silky. Sesame oil moisturizes the skin, and the rose makes it glowing. To prepare the scrub, take 2 teaspoons of ground cloves, ? cup sugar, 1 ? teaspoon sesame oil and 1 teaspoon dried rose petals. Stir well and apply to the body. After 15 minutes, rinse.
Body scrub with sea salt, baby oil and jasmine oil
Mix ? cup of baby oil and 1 a glass of sea salt. Add 3-4 drops of essential oil of jasmine. Stir well and apply on the body. Leave on the skin for 15 minutes, then rinse.