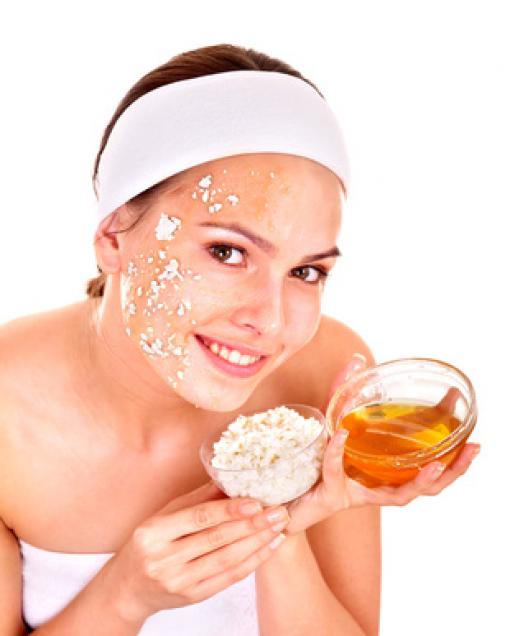 The need for regular procedures for peeling for a modern woman has long been not in doubt: in order to have porcelain, smooth and well-groomed skin, it is important to provide her with appropriate care.
Home peeling copes with this task no worse than salon procedures: the skin is leveled, its color improves, the elasticity becomes stronger, the pigmentation becomes paler, the pores become narrower. To achieve this result, you can correctly choose the ingredients for peeling under your skin type.
Curd
3 tablespoons of granular, high-fat cottage cheese are mixed with olive or linseed oil (1 teaspoon) and a tablespoon of rice flour. Flour is easy to obtain if you grind rice in an ordinary coffee grinder. The components are mixed until a creamy mass is obtained, applied to the face, gently massaging it, and left to act for 10 minutes, after which it is rinsed off with warm water.
The product tones well, refreshes and whitens the skin. When applying peeling for dry skin, after applying the procedure, apply a moisturizer.
Honey and bran
Preheated on a water bath natural honey (about 2 tablespoons) mix with a dessert spoon a little diluted lemon juice and the same amount of wheat bran or oatmeal. Warm the mixture applied to the face on massage lines, leave for 10-15 minutes, then rinse with warm water.
When using pure honey, without additives, peeling is recommended to perform light patting movements of the fingertips. Warm, liquid honey is "hammered" into the face, avoiding the area around the eyes. The procedure causes a rush of blood, so it is not recommended to hold it if the face has dilated vessels.
Orange
The pulp of half of the peeled orange is mixed with a dessert spoon with a coffee grounds and two teaspoons of slightly warmed honey. The mixture is applied to the skin, gently massaged and washed off first with warm water and then with cool water. Peeling is not suitable for skin with open wounds and irritations.
Sugar and lemon
One tablespoon of fresh lemon juice is brewed with boiled warm water in the proportion of 1: 1 and moistens the cotton disc in the resulting solution, after which the cotton wool is sprinkled with a small amount of sugar. The skin is massaged with neat movements for 2-3 minutes, then thoroughly rinsed with cool water.
This procedure is suitable only for oily skin, prone to clogging pores and the appearance of rashes.