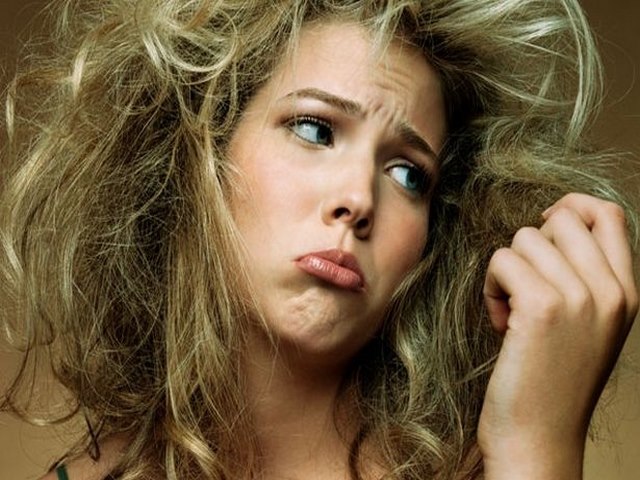 Dry damaged hair will become a real punishment for a woman. After all, these hair lose its luster, seem withered and unattractive. They are very hard to comb, they are often confused, split and broken. To cure hair, you need to spend a lot of effort, but the most accessible and effective method will be home masks for dry and damaged hair.
Home masks are useful because they contain no dangerous and aggressive chemicals, all products are natural. And thanks to the fact that folk recipes treat hair for many years, we can say with confidence about their effectiveness. But stop the treatment on some masks is not worth it. After all, dry hair can be a symptom of internal disease. And not curing it, not curing the hair.
Glycerin mask for dry hair
In order to make a mask, you need 1 egg yolk, according to 1 tsp. glycerol and vinegar and 1 st.l of castor oil. All should be well stirred and the resulting mixture spread on the hair. They need to be covered with a plastic wrap and a towel. Keep mask for 30-50 min. It enhances shine and elasticity, and also moisturizes well.
The mask will moisturize the scalp and help get rid of the known symptom of dry hair – dandruff.
Homemade Mask with Sprouted Wheat
For cooking, it will take 1 tsp. juice of lemon, 2 st.l. 11% cream and 1 tbsp. ground wheat. All components of the mask should be placed in an enamel bowl, mixed well and slightly warmed. Hair slightly wet. With massage movements, the mixture must first be rubbed into the scalp, and then evenly distributed over the entire length. Keep the mask you need 15-20 min. And then wash it off with shampoo. To ensure that the bulbs are well nourished with vitamins, this mask needs to be done every other day for at least a month. Soon the gloss and vivacity of the hair will be noticeable.
Mask with bananas
Necessary elements for the preparation of this mask will be 1 tsp. honey, 1 egg yolk, 2 tbsp. sour cream and 1 banana. If there is a blender, then everything can be mixed in it. And you can manually mash the banana with a fork until the gruel, add all the remaining products and stir well. This mask is applied to dry hair and holds 40-50 min. The hair needs to be warmed with a towel. Then wash off the mask with the addition of shampoo. This mask for dry and damaged hair after the first time will give the hair softness. And with constant use will make hair shiny, feeding them from the roots.
Ginseng Hair Mask
This home mask will help improve blood supply. It nourishes the hair well, makes it soft and smooth. And it will take only 1 yolk for her, according to 1 tsp. honey and tincture of ginseng and 1 st.l. 33% cream. The mask must first be rubbed into the scalp, and only then applied to the entire length. The mask should be on the hair for about 2 hours. The main thing is not to forget to warm the mask with a towel. The ginseng mask with usual shampoo is washed off.
Squash mask. At the end of summer, when the vegetable gardens are full of zucchini, you can apply them not only in cooking, but also to improve the structure of the hair. The mask does not require the zucchini itself, but its juice. It is necessary to grate a small fruit on a grater, and then squeeze it through gauze. In the juice we add 1 st.l. olive oil and a little more than half a cup of milk. All is well mixed and rubbed into the scalp. The rest of the mask is applied over the entire length of the hair. The mask is activated in warmth, so the head should be wrapped around the film and wrapped well with a towel. Keep it can 30 min. Then rinse with warm water and shampoo.
Before applying masks, you should always consult a trichologist. After all, brittle hair can be a symptom of a disease. Improper nutrition can also cause hair deterioration. Another cause may be long-term stress. Sometimes a hair disorder is associated with the causes that arose from six months ago. The growth of fragile hair began when the body was exposed to some negative factor.