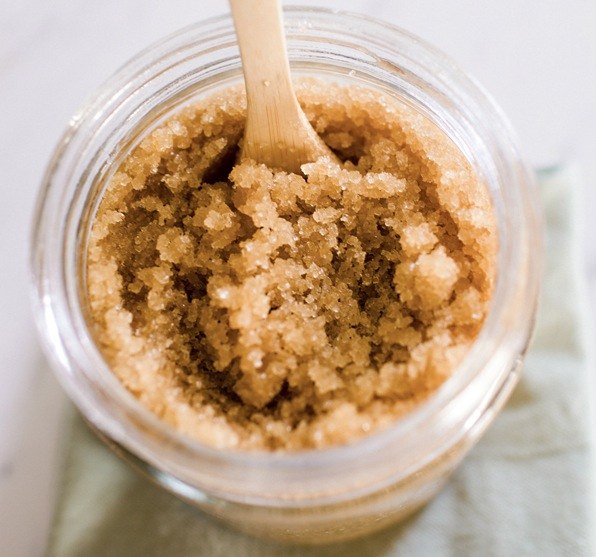 What better way to cleanse the skin than scrub? Only scrub, made by own hands from the most useful and natural ingredients.
Thanks to the scrub, you can quickly and gently cleanse the skin. Depending on the components of the scrub, chemical and physical removal of the keratinized skin particles occurs. The chemical component is a cream or gels, physical – solid particles.
В качестве абразивных частиц в основном используются натуральные ингредиенты – косточки, кофейные зерна, песок, морская соль, сахар. Как правило, эти составляющие подходят для любой кожи, в то время как химические компоненты могут спровоцировать аллергическую реакцию. Чтобы этого избежать, не обязательно отказываться от использования скраба в качестве косметического средства для ухода за телом, достаточно сделать его самостоятельно в Home conditions. Самым простым, но эффективным ингредиентом для домашнего скраба является сахар. Выбор лучше всего делать в пользу тростникового сахара.
The recipe for scrub is very simple.
Для сахарного скраба потребуются ингредиенты:
• cane sugar – 425 gram;
• olive oil – 125 ml;
• honey – 60 ml;
• vanilla – a teaspoon
In addition, you will need: a large bowl for mixing ingredients, a wooden spoon and a sealed jar with a volume of at least 500 ml.
The ingredients are thoroughly mixed in a cup. The basis of the scrub is olive oil, honey is a link, which also has emollient properties, and vanilla is a natural flavor. If desired, you can add a pinch of cinnamon to the vanilla.
The finished scrub should be transferred from a bowl to a sealed jar and tightly closed. Since the scrub is natural, its shelf life does not exceed one month. If you are not sure that you can use it for this time, you can cut the number of ingredients by half.
Полезный, ароматный и красивый скраб готов к тому, чтобы делать кожу красивой, ухоженной и эластичной.