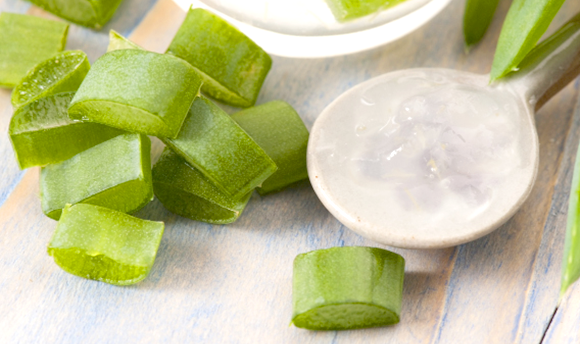 Manufacturers of cosmetics often use aloe vera as the main ingredient in lotions, creams, face masks, etc. But you can grow this plant at home and use its fresh leaves for the benefit of yourself and family members. Here are a few simple and productive ways of applying aloe vera for cosmetic purposes.
Makeup remover
Extract the gel from the leaves of aloe vera. Wet a cotton swab in the gel and cleanse the face. Then rinse your face with clean water.
Shaving cream
Mix half a glass of aloe vera gel with 1 tablespoon of almond oil, 1 tablespoon of vitamin E oil, 1 teaspoon eucalyptus oil and ? cup warm water. Mix well the ingredients and put in a small bottle. Store in a refrigerator and shake well before use.
Scrub
Mix ? cup aloe vera gel and 1 tablespoon baking soda before forming the paste. Apply the paste on the skin and gently rub it. Then rinse with water.
Facial Cleansing Gel
Make a mixture of 1 tablespoon of aloe vera gel and 1 tablespoon of coconut or lemon juice. Stir well and use this mixture to wash your face.
Mask for the face
Mix in a blender ? cup aloe vera gel, fresh cucumber and egg white. Apply mask on face and leave overnight. The next morning, rinse with water.
Remedy for bad breath
Dissolve 2-3 tablespoons of aloe vera gel in ? cup of water. Use this mouthwash after brushing your teeth or as needed.
Remedy for dry and cracked skin
Mix 2 / 3 glass of aloe vera with ? cup cornmeal, ? cup oatmeal and 1 tablespoon of coconut oil. Then rub the mixture into the skin to exfoliate the dead skin cells. Rinse with water after 10 minutes and apply a moisturizer.