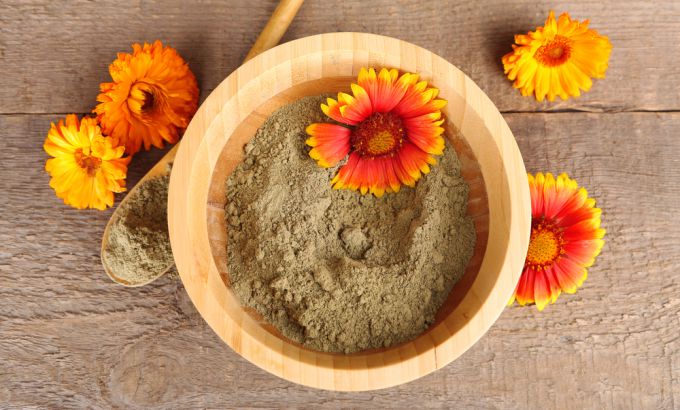 Сейчас, чтобы сменить имидж или закрасить седину, достаточно 40 минут и упаковки краски. Способ проверенный, быстрый и действенный. Но даже самые щадящие составы нарушают и истончают структуру волоса. Сохранить здоровые волосы помогут натуральные красители – хна и басма.
Химические красители размягчают волос, чтобы цветной пигмент мог проникнуть под чешуйки и равномерно окрасить шевелюру. Это приводит к сухости и ломкости волос. Природные красители обволакивают каждый волосок цветной пленкой, делая волосы более плотными и гладкими. Результат окрашивания натуральными средствами менее стойкий, чем от химических красителей, но зато волосы остаются здоровыми и блестящими.
Henna is obtained by drying and chopping leaves of lavsonia. Used in a pure form of henna powder will give the hair a bright copper color, stiffness and density. By varying the additives, it is possible to significantly expand the color palette of this natural dye.
To obtain a golden-brown hue, the henna powder is steamed with a strong decoction of chamomile, heated to 70 ° C. Kashitsu put on the entire length of the hair, wrap the head with polyethylene, then a towel. The color intensity depends on the time of staining. The minimum time for the effect of henna on hair is one hour.
Decoction of chamomile can be replaced with turmeric powder (2 teaspoons per glass of hot water).
A luxurious chestnut color with golden tint will be obtained if you add half a glass of coffee in henna and let it brew 3 hours. To prepare the coloring composition, you must use only natural ground coffee. Fill in 4 art. Spoon coffee with a glass of water and boil 15 minutes. Keep on the hair a mixture of henna and coffee need at least 2 hours.
Насыщенный медный цвет получится, если смешать хну с горячим отваром луковой шелухи или черным чаем. Порошок какао, добавленный в хну, придаст волосам холодный каштановый оттенок. Достаточно 5 чайных ложек какао на 100 г хны.
Басма – порошок из измельченных листьев индиго стимулирует рост волос, устраняет перхоть, является очень стойким и активным красителем. В чистом виде окрашивает волосы в сине-зеленый цвет, поэтому не используется отдельно.
Mix one part of basma with two parts of henna, add hot water to the consistency of sour cream. Apply the mixture for 2 hours and you will receive a noble bronze hair color.
Чтобы получить оттенок «бордо» в смесь равных частей хны и басмы добавляют половину стакана свекольного сока или крепко заваренного чая каркаде. Цвета красного дерева на волосах достигают путем добавления клюквенного сока или красного вина. Смесь из 100 г басмы, 50 г хны и 100 мл кагора выдерживают на волосах 1,5 часа.
Do not use metal utensils to prepare a color mixture from henna or basma.
To wash out natural dye it is necessary a plenty of warm running water without use of shampoo. Do not use hair conditioner and do not dry hair with a hairdryer. The final color will show up the next day, do not panic if immediately after dyeing the hair is a bit off-color.
Giving hair a raven's wing color can be done by staining with a mixture of 3 pieces of basma and one henna. The powder is diluted with water heated to 85оC, a few drops of lavender essential oil are added and the hair is kept at least 4 hours.
In case of getting an excessively intense shade, apply warmed vegetable oil on hair – this will help to wash off part of the dye. After 25 minutes, wash your head thoroughly with shampoo, rinse your hair with water and lemon.