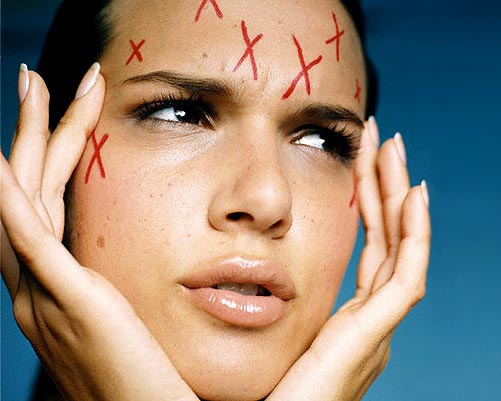 On the way to healthy skin you need: blue or black clay, zinc ointment, a little perseverance. The result will not be visible immediately, but gradually the skin will begin to clear.
How to start fighting with pimples?
It is worth to accustom yourself to the ideal cleansing of the face. At night, make-up should be washed off cleanly, zinc ointment is applied to the affected areas of the skin. While the rashes have a pronounced character, at least use a foundation. It will be good to make an appointment for cleansing your face with a cosmetologist. Establish a healthy diet, exclude the most harmful to the skin products – milk chocolate, chips, soda water. Add to the diet of dairy products, mineral water, fruits and vegetables. By the way, such a nutrition system will help get rid of pimples and lose weight.
Маски от прыщей из глины
It is necessary to make masks from white or black clay. To prepare a mask it is simple: it is necessary to pour out clay in nonmetallic utensils and to fill in with warm water that the creamy consistence has turned out. Keep clay on the face until it dries. Do these masks are regularly. Clay has antimicrobial and healing properties, so that after the first application some improvements will be noticeable. Instead of water, you can dilute the clay with a warm decoction of chamomile.
How to disguise pimples and redness?
For a special case for the masking of acne, you need a green corrector that is spotted on redness. After the tonal basis was applied to the entire face, point with a small brush with a green corrector. Green color neutralizes red, pimples become invisible.