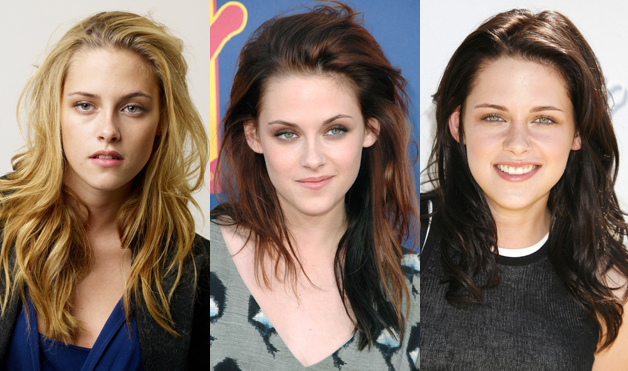 Образ знаменитой вампирши Голливуда уже не раз менялся. То Кристен Стюарт рыжеволосая фея с косами, то нежная блондинка с коротеньким бобом, то Белоснежка с водопадом черных волос или же рокерша с рваными прядями.
Of course, the sweetest heart of Kristen Stewart's millions of fans was her hairstyle in the twilight saga – voluminous long curly ringlets. Often Kristen walks with such a hairdo in everyday life. Apparently, she, too, fell in love with the Twilight. This hairstyle can easily be done by yourself.
How to make a haircut, like Bella Swan and Kristen Stewart
Hair should be shiny and well-groomed. Here you will help in this restoring mask. To perfection, you can bring the head of hair as folk and professional means.
So, first freshly washed locks need to be given volume. For this, apply a little mousse along the entire length of the hair. To hair lay more naturally, comb them from the face back. Choose large strands and dry with a large brush, lifting at the roots. Approximately two-thirds of the hair length should be dried from the top down to give them a smoothness.
Blow for a few minutes on the ends of the strand to create natural, soft curls. Fasten the styling, blowing your hair at some distance with cold air. To add volume, whisk the hair layer by layer. With the help of gel or wax, give the hair a finished look, smoothing and highlighting the strands. Fold the ends with your fingers. Scrunch your hair with a varnish or spray to give shine.
The hairstyle of Kristen Stewart due to slight negligence will give the image of sexuality and rebellion. You can try to complement the make-up with the "Smokey-Ice" make-up and light skin tone. Judging by the twilight saga, it's these girls that attract vampires.